Posted Tuesday, August 04, 2009
The big news is the ability to add track effects and Audio Units to guitar tracks, but there are other improvements, too. Grab the GarageBand 5.1 update.
Labels: garageband, music
Posted Monday, July 06, 2009
Naw, I'm just kidding. I stumbled across this video over the weekend and had to share. I'm not sure the Vinyl Killer is the best thing for your precious vinyl records, but it sure is cute. I want one. They sell for about $99US.



While researching (that's another word for "procrastinating") the Vinyl Killer, I came across a video showing an incredibly cool optical "turntable" that's able to play even cracked and severely damaged records. I don't think you can pick this one up at the local electronics super store, though.

Besides, I'm holding out for one of these.

Happy Monday!
Labels: audio, ipod, music, turntable, vinyl
Posted Thursday, April 23, 2009
Completely fascinating article on audiophiles -- we're talking $350,000 stereo systems here -- from Gizmodo.

I still like my iPod, but now...well...
Posted Monday, April 13, 2009
PC World's web site has a cute little photo gallery on the ten wackiest headphone designs.

I do believe I'd kill for a set of those AKG K1000s. They cost $1200 when new.
Posted Tuesday, April 07, 2009
I love Wolfgang's Vault, an incredible collection of hundreds of live concert recordings from the legendary concert promoter Bill Graham.

Right now, I'm bobbing my head like the fool that I am while listening to a Muddy Waters Blues Band concert recorded at San Francisco's Fillmore Auditorium in 1966.

Here's one track for your listening pleasure. Check out the rest -- they're free to listen to, and ridiculously cheap to buy and download ($5.98 USD for 11 tracks encoded as 256kbps MP3s).


Labels: fun web stuff, music
Posted Sunday, April 05, 2009
The documentary "Before the Music Dies" tells the story of American music at this precarious moment. Filmmakers Andrew Shapter and Joel Rasmussen traveled the country, hoping to understand why mainstream music seems so packaged and repetitive, and whether corporations really had the power to silence musical innovation.

You can watch the entire 90-minute documentary online, including right here.


Labels: music
Posted Thursday, July 17, 2008
David Bryne's latest project, Playing the Building, connects a keyboard to, well, a huge building.

Now that's a jam pack.


A cool photo-essay through one of only three record-pressing plants operating in the United States.
Labels: fun web stuff, music
Posted Thursday, March 13, 2008
Nice tip from Rob Griffiths:

If you make extensive use of iTunes' ability to rate songs, then you'll appreciate this little but useful tidbit regarding iTunes 7.6. New in this release -- to the best of my knowledge -- is the ability to search for star ratings using the built-in search box. Using it is about as simple as can be: click into the search box, and type one asterisk for each star value. To find all three-star-rated songs, you'd just enter ***, two stars would be two asterisks, etc. You can also combine asterisks and other values, so Beatles *** would find any music that contains the word Beatles and is rated at least three stars.
Read it all.
Posted Thursday, February 21, 2008
In my previous post, I criticized the Flickr support in the Apple TV "Take Two" update.

Now it's time for some Apple TV praise.

One of the new additions to Apple TV is support for AirTunes, the Apple technology that enables you to wirelessly beam music from iTunes. AirTunes has been around for a while, having debuted in Apple's AirPort Express mini-wireless base stations. But support for AirTunes is new in Apple TV, and it's a big deal.

"But," you say, "why use AirTunes when you can connect to a shared iTunes library with Apple TV? After all, Apple TV has always been able to do that."

You are correct, astute reader. But there are some excellent reasons to use Apple TV's new AirTunes support.

Crossfades. When playing music in iTunes, you can have the program crossfade songs: one song fades out while the next fades in -- like on the radio. Apple TV can't do crossfades with the music on its hard drive, nor can it crossfade tunes that it's accessing from a shared iTunes library. Ah, but by playing back in iTunes and beaming to AirTunes, crossfades are yours. They add a professional-sounding touch to your playlists.

To set up iTunes to do crossfades, choose iTunes > Preferences, click the Playback button in the Preferences dialog box, then click the Crossfade Playback box. Adjust the slider to specify a duration for your crossfades. Tip: To quickly navigate the many panes in the Preferences dialog box, press Command-(left bracket) and Command-(right bracket). These shortcuts also work in the Song Info dialog box. They're in the book!

Better still, you can even use your Apple TV remote control to pause and resume playback and skip to the next and previous songs.

Radio. Like the Internet radio stations in iTunes? With AirTunes, you can stream them to your Apple TV -- and your stereo. Bliss.

AirFoil. Want to stream any audio from your Mac to your Apple TV? Get AirFoil, from Rogue Amoeba Software. This $25 wonder lets you beam any audio your Mac produces to your Apple TV. Play radio stations that use RealPlayer, QuickTime Player, or Flash.

AirTunes on Apple TV? A good thing.
Labels: airfoil, airtunes, apple tv, itunes, music
Posted Tuesday, November 06, 2007
Get 'em now: minor updates to iTunes and QuickTime.

Macworld articles on the updates: iTunes 7.5 and QuickTime 7.3.

Tip: Don't want to supply your email address before downloading iTunes? You don't have to. Just uncheck the "keep me informed" boxes before clicking the Download button.
Labels: itunes, music, quicktime
Posted Monday, October 29, 2007
Just about everything you need to know about video on an iPod, iPhone, or Apple TV: Labels: itunes, music
Posted Friday, October 19, 2007
Yes, industry -- it's a multi-billion dollar market. And ringtonia.com looks like a great source of news on it.
Posted Wednesday, October 10, 2007
This article about the iTunes equalizer has been around a while, but I just stumbled on it. Good stuff.
Posted Tuesday, October 09, 2007
The 1.1.1 software update for the iPod touch makes it "a bit better,"
says my colleague Chris Breen:



In my original review I suggested that the iPod touch's video quality was a deal-killer. With the 1.1.1 update that quality has improved somewhat -- enough to warrant a half-mouse uptick in our rating. But the touch's feature set remains arbitrary, the touch still won't support old video accessories, and no software update could ever add the physical volume controls that would make it possible to operate an iPod touch from the comfort of your pocket. In short, the iPod touch is a bit better, but still far from perfect.

Labels: ipod ipodtouch, itunes, music
Posted Wednesday, October 03, 2007
Apple has published a list of questions and answers for its iTunes Wi-Fi Music Store.

And Macworld has published a "First Look" at how the Wi-Fi Music Store works at Starbucks. (Blech.)

Also worth reading: On ringtones and copyrights: why you must pay another 99 cents to make a ringtone of a song you already own.
Posted Tuesday, October 02, 2007
Chris Breen looks at Rogue Amoeba RadioShift software, which provides TiVo-like (but not quite) capabilities for recording streaming radio stations.

Playlist: A look at Radioshift

(I'm working hard on the next edition of my book and other projects, but I'm also resolving to post here more often, even if they're just short snippets.)

Oh, and if you like "low-fidelity" photography, don't miss Polaroid Week 2007, now taking place over at Flickr.
Posted Thursday, March 08, 2007
iTunes 7.1 is here (download).

The new version brings an enhancement I wished for some time ago: the ability to display a full-screen view of Cover Flow mode. Yay.

My colleague Chris Breen has details on navigating the full-screen Cover Flow view.

Elsewhere, iLounge has a nice visual summary of other, mostly minor, changes in iTunes 7.1. And MacFixit is reporting on problems some users are experiencing with full-screen Cover Flow view on some Mac models.

Happy downloading!
Labels: coverflow, itunes, music
Posted Wednesday, February 07, 2007
Macintouch links to a fascinating essay by Steve Jobs that was quietly published on Apple's Web site yesterday.

Background: Regulators in several European countries have been making noises about requiring Apple to open up the iTunes Store in ways that would enable songs to play on devices other than iPods.

Jobs outlines the reasons why the iTunes Store must sell content in a way that makes it difficult to pirate. In a nutshell, he says, "the record companies made me do it." That is, Apple's agreements with the recording industry require Apple to wrap each song in a "digital rights management" surveillance bracelet.

The answer? Make the record companies stop requiring the surveillance bracelet. After all, they sell many, many more unprotected songs -- in the form of audio CDs -- than they do protected ones.

It's a sound argument, if you'll pardon the pun. And it's fascinating reading.

Memo to Steve Jobs: more essays like this, please!
Labels: apple, drm, fairplay, itunes, jobs, music
Posted Tuesday, January 30, 2007
Yesterday, I introduced my new passenger: Pioneer's AVIC-Z1 car stereo, video player, and navigation system.

Let's take a closer look at the Z1's iPod interface.

As I mention in my book, you can play an iPod through a car stereo in a few ways: through an FM transmitter (yuck -- this is how I suffered for the last few years); through a cassette adaptor (only slightly better; still a big compromise in sound quality); by connecting the iPod's audio output to a system equipped with an audio input jack (much better); or by using an car audio system that has an iPod-specific interface.

The last option is the best. iPod interfaces provide a standard dock connector that plugs into the bottom of the iPod, keeping the iPod charged while the ignition is on. Better still, tapping deep into the iPod's circuitry enables the car audio system to basically perform a Vulcan mind meld with the iPod: you can control playback using the controls on the system, and information about the currently playing song appears on the system's display.

And on the Z1, with its 7-inch LCD screen, that means having touch-screen navigation of your music library: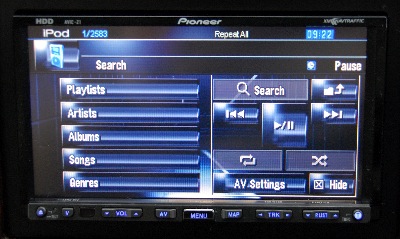 Notice the Hide button in the lower-right corner of the screen above. If you touch it, all the control buttons vanish, leaving only the current song and artist name in a single line at the bottom of the screen. The rest of the screen fills with an image. And of course you can customize the image: just burn a JPEG-format image to a CD, insert the CD in the Z1's optical drive, and copy the image to the Z1's internal hard drive.

It'll Cost You
A growing number of iPod car-integration options is available. The Pioneer Z1 doesn't come factory-equipped with an iPod interface; after all, it has a 30GB hard drive, 10GB of which can hold songs you rip from the Z1's internal optical drive.

But I wasn't about to spend in excess of $2,000 without getting iPod control, so I threw in $100 more for the optional iPod interface. Now my older, third-generation iPod -- now renamed CarPod -- lives in my glove box.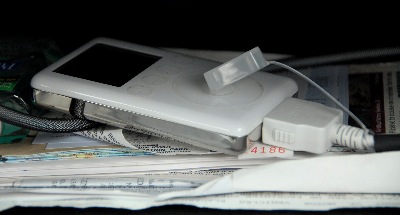 (By the way, Pioneer also sells two remote controls for the Z1 -- one attaches to the steering wheel, and the other is a living-room-style infrared wireless remote. You might consider the latter if you're outfitting an RV or a tour bus for a rock star or campaigning politician. Both remote controls will also control an interfaced iPod.)

The Z1 provides all the usual playback controls you'd expect: pausing and resuming, skipping to the next and previous track and so on. You can skip between tracks by pressing either the Next and Previous touch-screen buttons or by using the TRK button on the bottom of the Z1. And if you hold down either button, you can scan through a song -- great for skipping a rotten solo, repeating a fabulous one, or locating a specific spot in a podcast.

Speed Bumps
If I have a complaint about the Z1's iPod control, it's that scrolling through lengthy lists -- artists and songs, for example -- is on the slow side. If you're browsing artists and you want to find one whose name begins with a letter from the middle of the alphabet, you'll do a fair amount of tapping and waiting.

Also, Pioneer's engineers might want to take a look at how Apple implemented music library navigation in the iPhone. I'd love to be able to simply sweep my finger across the Z1's display to scroll songs instead of having to press up-arrow and down-arrow icons.

Ah, what a spoiled poodle I have become. I used to complain that my car didn't have enough room for my cassettes. Then I moaned that my in-trunk CD changer held just six discs.

Now I gripe because it might take me all of 15 seconds to find a song out of the thousands that sit in my glove box.


Labels: car, ipod, itunes, music, pioneer, z1