Wednesday, August 06, 2003
Posted 11:18 AM

Expand Your iDVD Menu Designs with iDVD ThemePAKs

iDVD's built-in menu designs, or themes, are a visual feast, but even the items on a gourmet menu can become boring if they're all you eat every day.

It's easy to customize iDVD's themes with your own images -- I describe how in The Macintosh iLife -- but it isn't all that easy to create the kind of beautifully rendered motion menu themes that iDVD provides. And it's even harder to create themes containing drop zones, those special menu regions where you can drag photos and movies.

Todd Siechen's ThemePAKs are the answer to menu monotony. There are currently six ThemePAK sets; each costs $29, except for the Wedding series, which is $49. (Hey, make the bride's father pay for it.) If you buy more than one, you get a discount, and you can buy all six sets -- over 50 themes in total -- for $159.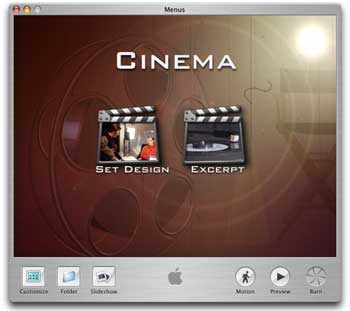 Each ThemePAK contains eight themes, most providing motion menus and drop zones. All of the themes are lovely, but there are some absolute gems in each set. From ThemePAK 1, SportsBar and Cinema are drop-dead gorgeous. In SportsBar, diagrams of various sporting venues -- a baseball diamond, a football field -- pan and zoom behind a beautiful blue gradient. In Cinema, a movie reel slowly turns while a movie countdown and projector bulb flash, and each of your buttons is shaped like a small movie clapper.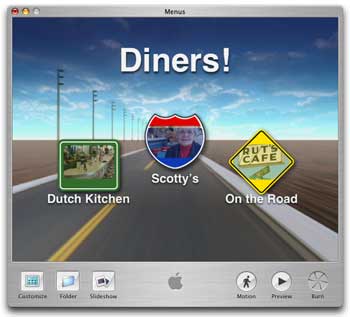 Each ThemePAK provides plenty of variety. There are abstract themes that would be ideal for corporate or business DVDs. There are cutsie themes that are perfect for home movies of the kids and the dog. And there are "thematic" themes that complement certain types of content, such as ThemePAK 2's fantastic Road Run, in which a vanishing-perspective highway races by, complete with buttons that look like road signs.

Some of the themes are downright mesmerizing. In ThemePAK 1's Undersea, you're looking up at the surface of an ocean, the sun glinting off of gently undulating swells. In ThemePAK 2's Ocean, you're soaring above the water -- perfect for that remake of Waterworld you've been working on.

I have just one quibble: Some of the motion themes, including Cinema and Motorsports (from ThemePAK 2) don't loop cleanly -- when the animation reaches iDVD's 30-second limit, it repeats, but the end and the beginning don't match up perfectly, and the motion is a bit jarring. But in fairness, you have to be watching closely to notice.

Each ThemePAK includes an installer program that places the themes on your hard drive (in the ~/Library/iDVD/Favorites/ folder). To access the themes, simply choose ThemePAK from the pop-up menu in iDVD's Themes pane.

There are several free themes that you can download and try. They'll give you a feel for how beautifully the themes are rendered, but none of the freebies provide motion menus.

ThemePAKs: Highly recommended.

Speaking of visual feasts, have you feasted on the free update to my book? 18 delicious, full-color pages covering iTunes 4, the iTunes Music Store, and the new iPods. Gobble it up right here.