Tuesday, January 24, 2006
Posted 8:42 AM

In iPhoto 6, Smart Albums are Smarter

The smart albums feature in iPhoto 6 has a new capability: you can use camera EXIF data as criteria for a smart album. This makes possible a lot of photo-corralling conveniences.

Create one smart album of all photos taken with your Canon camera, and another of all photos taken with your Sony.

Create a smart album containing all shots taken at an ISO speed of 400 or higher. Of all shots taken with the flash off. Of all shots taken at a slow shutter speed (a great way to quickly find all your outdoor night shots). Or a fast one.

Check it out. This is one of those little enhancements that will have a big impact on the way I manage photos.



Monday, January 23, 2006
Posted 8:46 AM

The Definitive, Annoying Fix for the PowerBook G4 Audio-Skipping Problem

The world's eyes may be looking ahead toward the imminent arrival of the MacBook Pro laptops, but many recent PowerBook G4 buyers are still wondering when and if Apple ever plans to fix a serious flaw in its final generation of G4 laptops.

I'm one of them.

The annoying PowerBook audio-echo problem persists. I was hoping Mac OS X 10.4.4 would address it, but it didn't.

I poked around on Apple's support discussion boards, and found some lively conversation on the topic. One user even posted a recording of what the echo sounds like.

In that discussion thread, I found what appears to be Apple's "fix" for the problem: running only one "audio application" at a time.

Great! While we're at it, where's the option to turn off MultiFinder in "the world's most advanced operating system"?

In seriousness, this "fix" does appear to eliminate the annoying echo effect, whose escalating volume came this close to blowing out my very expensive pair of Yamaha studio monitors over the weekend.

Until Apple actually issues a fix for this problem, I discourage the purchase of a PowerBook G4 for any audio applications. And I advise any potential MacBook Pro customers to wait until after the new laptops have shipped and proven themselves free of this scourge before buying.



Friday, January 20, 2006
Posted 10:55 AM

iPhoto 6 Tip: Subscribe to Flickr RSS Feeds in iPhoto

As many of you know, I'm what might be termed "fond" of the Flickr photo-sharing service.

Okay, I'm obsessed with it.

So imagine my delight when I stumble upon a blog entry that says you can subscribe to a Flickr RSS feed using iPhoto 6.

I'm not sure you can imagine that degree of delight.

It's a cool trick, and when you think it about, it makes perfect sense: if the new photocasting feature in iPhoto 6 lets you subscribe to an RSS feed of someone else's iPhoto albums, why wouldn't iPhoto 6 also let you subscribe to a Flickr feed?

It does, and it makes possible some seriously cool photo gymnastics.

Why Bother?
There are a few noteworthy angles to this tip, but let's step back and ask the greater question first: why bother?

Stay current. Are you fond of a certain Flickr group? A certain tag? A certain someone? Flickr provides RSS feeds for groups, tags, and Flickr members. Subscribe to a feed, and iPhoto 6 updates it for you whenever you like—every hour, every day, every week, or whenever you ask.

Have fun with the photos. You can subscribe to Flickr photo feeds using a newsreader, but what does your newsreader know about photos? Does it have a slide show feature? Can it create postcards? Does it let you order prints?

I didn't think so.

When you use iPhoto 6 to subscribe to a feed—whether it's someone else's iPhoto photocast or a Flickr feed—that feed's photos appear right in your iPhoto window. And that means you can bring iPhoto's sharing features to bear. Create a slide show. Create a book or a calendar or a greeting card. Print the photo on your own printer.

You get the idea: iPhoto 6 sets a photo feed free.

The Basic Technique
Subscribing to a Flickr feed in iPhoto 6 is a cinch. Note: You must be using Mac OS 10.4.4 to subscribe to RSS feeds in iPhoto 6.

Step 1. Copy the link. On Flickr, locate the link for the RSS feed to which you want to subscribe. (This link is usually near the bottom of a Flickr page, and begins with a phrase such as Subscribe to the feed....) Control-click on the RSS 2.0 link, and copy the link to the Clipboard.

Step 2. Paste the link in iPhoto 6. Choose File > Subscribe to Photocast. In the box that appears, paste the link that you copied in Step 1.

Step 3. Click the Subscribe button. iPhoto immediately begins loading the thumbnail images for the feed to which you subscribed. It's that easy.

View More Info
After iPhoto has loaded the photos from Flickr, you can view the photos as well as information about them. Want to see the title that the Flickr subscriber assigned to the photo? Choose View > Titles.

iPhoto 6 loads only the small thumbnail version of the photo. But if you open the Information pane (click the "i" button near the lower-left corner of iPhoto's window), you'll see a link to the original photo on Flickr. Click that link, and your browser displays the photo's page.

Seeking Higher Resolution
The fact that iPhoto displays only the low-rez version of a photo is a major drawback. After all, if your photos measure 240 by 180 pixels, how can you print them or display a slide show?

Ah, Web geeks to the rescue. John Evans has created a simple tool that takes the feed you copied in Step 1 and mashes it up in a way that causes iPhoto 6 to load the full-resolution version of each photo in a feed.

After copying the feed's URL in Step 1, head over to this site and paste the link into the box. The site does its magic, and within moments, iPhoto 6 begins loading the highest-resolution version of each photo in the feed.

That takes a while, of course, depending on the photos' resolution and on the speed of your Internet connection. But once the photos have loaded, you can print them, use them in slide shows, and add them to books or calendars.

If you're feeling recursive, you can even post them back to Flickr, though posting someone else's photos in your photostream is decidedly uncool.

Side Effects
When it comes to subscribing to Flickr feeds with iPhoto 6, I've noticed some interesting strangeness. (Not to be confused with strange interestingness, a lame joke that only fellow Flickrers will understand.) I'm still trying to sort them out, so I'll write about them in future posts.

And speaking of future posts, I've got a great tip in the oven right now. It deals with printing your own custom iPhoto 6 calendar pages on a wide-format printer. Tune in next week, and have a photo-filled weekend.



Wednesday, January 11, 2006
Posted 8:40 AM

Now Playing: "The Digital Hub," Episode 1: a 50-Minute Tour of Apple's iLife '06



The headline says it all. The first episode of my enhanced podcast, "The Digital Hub," is available for your downloading pleasure.

Or displeasure, if you have a slower connection. It's a big download—24MB. Turns out all those graphics that you add to an enhanced podcast do bulk up the file size!

Anyway, take a listen and a looksee. Besides a tour of all six iLife '06 programs, I also talk about how Apple has boosted the resolution of iPhoto books (and the new calendars and cards), I whine about Kodak's not-so EasyShare online photofinishing service, and demonstrate the newest addition to Apple's Jam Pack library, World Music.

I really like the way GarageBand 3 lets you create chapter markers in podcasts -- use iTunes or your iPod to skip the boring parts (that should save you about 47 minutes!) or replay an interesting part (less likely!).

I used GarageBand 3 to record, edit, and produce the entire podcast, and the program performed extremely well. I recorded the podcast using a high-end Beyer Dynamic ribbon microphone connected to a Mackie mixer that was patched into my new PowerBook, which doesn't feel all that new after yesterday's MacBook Pro unveiling. (But Steve, why no FireWire 800? Why no dual-layer SuperDrive? Why no built-in modem?!)

Anyway, go fetch.



Tuesday, January 10, 2006
Posted 10:15 AM

Get Your First Look at iLife '06 Here

At today's Macworld Expo in San Francisco, Apple CEO Steve Jobs introduced—among other things—iLife '06, the latest version of Apple's personal digital media studio.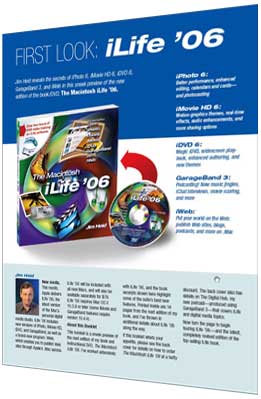 iLife '06 includes new versions of iPhoto, iMovie HD, iDVD, and GarageBand, as well as a brand-new program: iWeb, which enables you to publish Web sites through Apple's .Mac service.

I've worked extensively with iLife '06, and I've prepared a 16-page preview that highlights some of the best features in the new suite.

The preview contains 14 pages from the next edition of my book, The Macintosh iLife '06, as well as additional details about iLife '06.

Peachpit Press is distributing thousands of these magazine-size booklets at the Macworld Expo. But if you can't make it to Moscone, I'll bring the booklet to you.

Download the PDF now (4.2MB).

And come back tomorrow for the debut of The Digital Hub, a semi-regular podcast—produced using GarageBand 3, of course—that deals with iLife and related digital media topics.



Monday, January 09, 2006
Posted 8:53 AM

Let's Get Together in San Francisco: My (Limited) Expo Schedule

Where you been? I been busy. Happy New Year!

Like tens of thousands of Mac geeks, I'll be heading to San Francisco this week for the Macworld Expo. I'm not doing any conference sessions this time around because of other commitments, but I am speaking on the show floor a couple of times on Thursday, talking about iLife.

Macworld magazine booth, noon to 12:45 pm.

Peachpit Press booth, 3 to 4 pm.

Stop by and say hello!