Posted Tuesday, July 12, 2005
More Life Poster and Photo Mosaic Stuff, and a Cool VR Magazine You Must See

First, a couple of tidbits relating to the life poster project I published last Friday.

The rest of the world. If you're running a non-US English version of Tiger, the original action I posted won't work on your system; you'll get an error message when you try to run it. The fix: download this updated version. (If you downloaded last week's version and you're running a US English system, you do not need to download this update.)

Having problems making a poster? If you get an error message when running the workflow, be sure that you've selected only JPEG, TIFF, or PNG images in iPhoto. The workflow won't work with other formats, such as raw.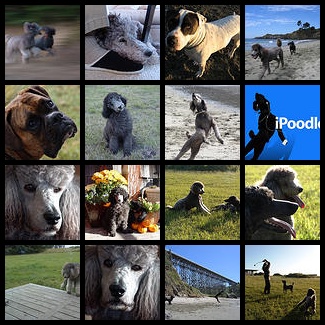 Creating photo mosaics through Flickr. There's always a Flickr angle, isn't there? Programmer John Watson has created a Web application that enables you to make a photo mosaic from any public photos on Flickr. Just enter the Flickr URL for each photo. Better yet, supply a Flickr URL that points to a collection of photos (such as your favorites, somebody else's favorites, or a set, Flickr's equivalent to an iPhoto album). I made the mosaic you see here in about 8 seconds.

The mosaics aren't large enough for high-resolution printing, but they're great for posting on Web pages (including, of course, Flickr) and sending via email.

Now (not) on newsstands: VR Magazine's Summer 2005 issue. Here's a magazine you won't find at your dentist's office. VR MAG is a Web-based periodical that covers the entire QuickTime VR scene. The Summer 2005 issue is out now, and it's a must-see for anyone interested in QuickTime VR and cutting-edge photography.

The new issue features virtual tours of several Mayan cities, of Stonehenge, of Lugano, Switzerland, andówait for itóof the inside of a dishwasher.

Now I know how my plates feel.