Posted Tuesday, June 14, 2005
Tuesday is My Good News Day: A Cool Mini Tripod from Germany, and an Update on My New Epson R2400 Printer

It's another busy day, but I have a couple of tidbits to pass along.

The Tiniest Tripod?
My friend and radio partner Bob Laughton just returned from vacationing across France (here's his Flickr photostream). He brought some treasures home for me, including what is the tiniest tabletop tripod I've ever seen.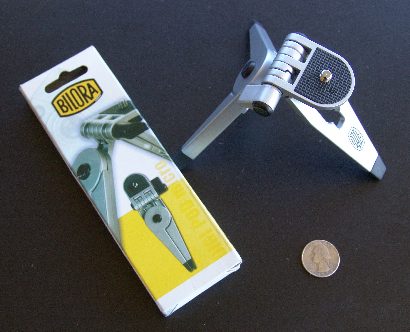 The Bilora Digi Pod Micro weighs 50 grams and folds into a nearly flat shape that's six inches long and looks a lot like a drafting compass. Unfolded, it's about 3.5 inches high.

You could carry this puppy in a jacket pocket without anyone knowing. You could even tuck it into your pants pocket, though you might risk someone asking, "Is that a tripod in your pocket or are you just glad to see me?"

The tripod is surprisingly sturdy, though it's a bit shaky when it's holding up my hefty Sony DSC-F828. With a smaller digital camera, such as my Canon S-50, it's rock solid.

Bilora is a large photo accessory manufacturer based in Germany. And, my fellow Americans, therein lies the rub: I haven't found any US dealers who carry the Digi Pod Micro. Maybe you'll have better search results. Or maybe you have a European friend who can send you one. Bob tells me this little kid costs less than 4 Euros.

Epson R2400 Update
I've had my R2400 for several days now (read my setup report), and I'm in love, love, love.

The black and white output from this printer is simply stunning. Back in my photographic darkroom days, I'd struggle for hours to get a print with the kind of rich tones that the R2400 produces on the first try.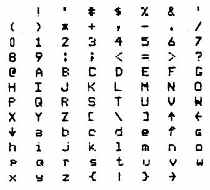 And just so you kids know how good you have it these days: the very first printer I bought was a Radio Shack Line Printer II. It connected to my TRS-80 Model I. It was a dot matrix printer, and its lowercase characters couldn't even print true descenders: the lowercase g, for example, was actually a tiny capital G.

The Line Printer II costs $999—$150 more than the Epson Stylus Photo R2400.