Posted Friday, April 29, 2005
PhotoStamps Are Back, Heid's on the New .Mac, and QuickTime 7 for Panther

Friday's fun: Last September, I wrote about PhotoStamps, a trial project from Stamps.com that would enable you to put your own photos on honest-to-gosh US postage stamps.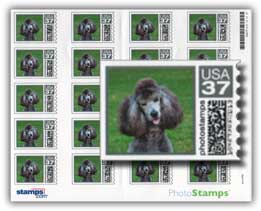 PhotoStamps were great fun. Alas, they were short lived, thanks in part to some jokesters who decided to order stamps of, shall we say, some controversial subjects.

There's good news: PhotoStamps are back. Pricing is the same as last year: one sheet of 20 stamps costs $16.99 (about twice the stamps' face value), and additional sheets cost less. Your photo must also be accepted by Stamps.com's content police, so keep it clean and keep it colorful—black and white photos are prohibited. (Read the terms and conditions.)

The New .Mac and Me
Apple has given its .Mac Internet service an overhaul, changing its design and adding several new features, including some new designs for the HomePage photo albums that you can create with iPhoto.




Among the other new features on .Mac are a series of "expert tips" and video tutorials from yours truly. Apple adapted ten tips from the iPhoto section of The Macintosh iLife '05 and is running them on a lovely page of their own. And in the .Mac Learning Center, there's a series of QuickTime movies in which I showcase some of iPhoto 5's new features.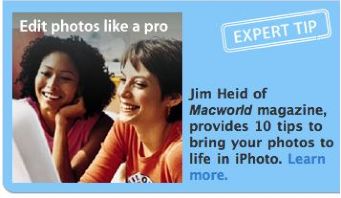 .Mac has always been a great complement to iLife, thanks to its HomePage Web albums, which make it easy to share photos and movies. The new .Mac also adds a much more functional home page that lets you easily access calendar, email, and address book information.

Not sure if .Mac is for you? Take a tour or sign up for a free 60-day trial. .Mac costs $99 per year, but you can order it through Amazon for $79.88.

QuickTime 7 for Your Older Cat
As every real Machead knows, Apple's Tiger operating system ships later today. But you don't have to wait for Tiger to get one of the enhancements that comes with it. Apple has made the new QuickTime 7 available now, and it works with Panther (specifically, with Mac OS X 10.3.9).

In QuickTime 7, the QuickTime Player is a much more sophisticated beast. I'll have more to say about it next week. In the meantime, have a fun weekend with Tiger.

Update: My pal and radio partner Bob Laughton reminds me to point out that if you currently have QuickTime Pro, you'll need to pony up another $29 for QuickTime 7 Pro—your existing license key won't work.