Saturday, September 11, 2004
Posted 4:09 PM

Stamping Out Stamp Jokesters: Stamps.com's $10 Spanking

Follow up to Thursday's post about the way-cool PhotoStamps from Stamps.com: The company has added a $10 "processing fee" for customers who upload "each image, graphic or photograph that you submit as an order in the PhotoStamps service which violates our content restrictions." (Read the restrictions here.)

In other words, order your Linda Tripp stamps at your own risk.




Thursday, September 09, 2004
Posted 11:24 AM

Pushing the Envelope: Put Your Photos on a Real Stamp with PhotoStamps

Last week, a friend gave my wife a present: a sheet of real US stamps, each one bearing a photo of Sophie, our standard poodle.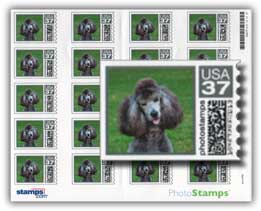 They're called PhotoStamps, and they're the latest offering from Stamps.com. Stamps.com began selling them last month on a trial basis, and I'm here to tell you: they're beyond cool.

Creating PhotoStamps is a cinch. Go to the PhotoStamps site and click the Image Upload button. Next, click the Browse button and choose an image. (If you're using an image from your iPhoto library, drag the photo from the iPhoto window out to your desktop. This makes a copy of the photo on your desktop. After you've uploaded the image, delete the copy from your desktop.)

The next screen lets you rotate and crop your photo and preview your stamp. (It's a great use of Macromedia Flash, by the way.) When you're happy with your budding indicium, you can place your order.

A sheet of twenty PhotoStamps costs $16.99, or about twice the stamps' face value. (Additional sheets cost less.) Your image must be approved by Stamps.com, so keep it clean and keep it legal -- they won't print anything they deem to be nasty or controversial, though that hasn't stopped some people from having a little envelope-pushing fun.

PhotoStamps: highly recommended.