Friday, May 27, 2005
Posted 12:21 PM

It's Back! Amazon is Again Discounting My Book. For Now.

Well, what do you know? Amazon.com has again restored the 34 percent discount on my book. And it only took a month (or seven years, in Internet time).

Anyhoo, if you've been postponing purchasing the world's best-selling book about iLife, postpone no longer. Now's your chance to grab 345 full-color pages (learn more) and a two-hour, 43-minute instructional DVD for $23.09.

Now I can stop stalking Jeff Bezos.


Posted 7:46 AM

Epson Stylus Photo R2400 Appears to Be Shipping, and More Friday Fun

No, I don't have mine yet. But when the printer was announced, I put my name on a couple of "notify me when this item becomes available" lists.

Today's email brought notification from the Epson online store that the printer is in stock and shipping. Epson also appears to be offering free FedEx Ground shipping for orders in the United States.

Curious, I checked Amazon. It, too, lists the printer in stock and shipping, though its Web page is mangled and odd looking.

(Hey, Epson, I feel your pain—Amazon still hasn't restored the discount on my book, which is why I'm still suggesting folks buy from Barnes & Noble to get 30 percent off.)

As I noted the other day, I've ordered an R2400 from Inkjet Art Solutions in Salt Lake City, Utah. I eagerly await. I'm particularly excited about this printer's black-and-white capabilities, as I mentioned earlier this month.

When Vinyl Meets Podcast
A friend sent me a link to Vinyl Podcast, wherein host Cody plays a song from his vast collection of albums and singles. I've been digging his May 12 installment, in which he plays a tune called "Hunk of Heaven" by a 70s group named Lemuria.

The group seemed to come and go in a flash, but the song has stuck with me—it reminds me of the great R&B tunes I used to listen to on Pittsburgh's WAMO back in the late Seventies.

I hear tunes like this and I can just feel myself in my 1971 Super Beetle, its leaky sunroof open to the summer wind, its cheap Maaco paint job glittering, its four Ansa exhaust pipes rumbling with authority. A kid in his first car, free to roam the Tri-State area.

Have a great weekend, kids, and wear your seatbelts.



Thursday, May 26, 2005
Posted 10:05 AM

Kodak Quietly Ships Updates of its Photoshop Plug-ins

Kodak isn't usually shy about issuing press releases, but the company is keeping a low profile about some new developments at its Austin Development Center, formerly known as Applied Science Fiction.

ASF—or KADC, depending on which Scrabble tiles you prefer—produces some exquisite digital imaging technology. If you have a mid-range or high-end scanner, you probably already have some of it: many scanner manufacturers license KADC's noise-reduction and color-restoration technology and build it into their products. These technologies include Digital ICE (built into many film scanners); Digital ROC (for color restoration); and Digital GEM (for noise and grain reduction).

KADC also produces a family of Photoshop plug-ins that provide many of these same capabilities, and today, the company shipped updates of its entire product line. The 2.0 versions appear to be modest updates: their improvements include larger preview windows, better memory handling, and faster performance.

I stumbled on the new versions while researching some upcoming projects. If you've never tried them out, you should. The free trial versions are fully functional but add a watermark to your images. They work in all Photoshop versions, and they're first-rate—highly recommended.



Wednesday, May 25, 2005
Posted 7:51 AM

It's (Almost) On its Way: Epson R2400 Available for Pre-Ordering

I've been sporadically prattling about Epson's new Stylus Photo R2400 since it was announced earlier this month. Each morning, I check a few e-commerce sites to see if it's shipping.

Shortly after Epson announced the R2400, Utah-based Inkjet Art Solutions began taking names for a pre-order waiting list. I threw my name into the hat, and this morning's email brought the good news: the company is taking pre-orders.

According to the email, "It looks like the R2400 printers will be arriving near the beginning of next week (apparently the printers wanted Memorial Day off ;). We're opening up ordering on the printers so we can have the orders ready to go when the printers ship. Some good news: our vendor is going to be shipping them directly so we are able to offer the ground shipping for free."

Needless to say, when I read this, I put down my first cup of coffee and picked up my American Express card. I've placed my order, and if you're interested in doing the same, check out the company's order page for the R2400.

When my printer arrives, I'll publish the obligatory striptease photo shoot: unpacking, setting up, inserting all eight ink cartridges, and scrubbing ink off my hands with Lava soap—which is still made, and by the same folks who make WD-40. Who knew?

I'm psyched.



Monday, May 23, 2005
Posted 7:42 AM

iTunes 4.9 to Support Podcasting

Hey, I'm liking my newly revamped iTunes resource page. It's there that I learned that Apple will be supporting podcasts in iTunes 4.9, "due within 60 days."

This is a huge boost for the already bubbling-hot podcasting scene.


Posted 7:29 AM

Flickr Fun Continues: Make Your Own E-Postcards from Flickr Photos

If I loved Flickr any more, we'd have to get married.

Toby Malina, my friend and co-author on Sell it On eBay, turned me on to yet another site that taps into Flickr in a cool way. The site is called Delivr, and it lets you send free electronic postcards bearing images from Flickr.

It's a cinch to use. Type a tag—as always, I recommend poodle—and then pick an image and type a greeting. You can preview your card with a click, and send it on its way with another one.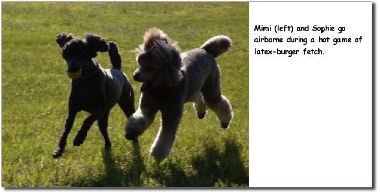 Delivr taps into all the publicly accessible Flickr photos that have been published with Creative Commons licenses. Specifically, the photos must be published with a license that allows derivative works, since that's what an e-postcard is. If you want to use your own photos as postcard fodder and you haven't uploaded them under a Creative Commons license, you can use Flickr's batch edit features to update their licensing. You can also set a default license for all photos that you upload.

Tip: To make it easy to locate your own photos through Delivr, assign your photos a tag that corresponds to your Flickr ID. Here's a subset of my photos.

And there you have it: yet another cool thing to do with you your photos. (And wow, sending an e-card via Delivr is a lot easier than doing so through Apple's .Mac service.)

Toby said it best: "Flickr ROCKS."

Check Out Our New eBay Selling Blog
Speaking of my friend Toby, she and I have started a blog that covers the delights of selling on eBay. It's in its infancy: it still has that new blog smell, and we're still working out the design and other details. But if you're interested in eBay selling (I do it to satisfy my digital camera addiction), check out the site and consider subscribing using your RSS newsreader.