Apple Offers iLife discount to iDay 2003 Attendees
I'm happy to announce that Apple will be offering a 20-percent discount on the iLife suite to all attendees of the next iDay seminar, which takes place on Saturday, February 8 in Palo Alto, California.
Attendees will receive a coupon that enables them to purchase iLife at the Apple store in Palo Alto. Upon presenting the coupon, they will receive 20 percent off the product's $49 price.
We really appreciate Apple's support of our seminars. And it makes iDay an even better value. Between this offer, our half-off user group discount, and the free copy of Portraits & Prints that all attendees receive, the net cost of iDay can be less than $20! There isn't a better training value in the galaxy.
This Saturday's iDay 2003 will also feature a guest speaker: Joe Lambert, cofounder of the Center for Digital Storytelling in Berkeley, CA. Lambert will speak on the power of digital storytelling and on the capabilities that the Mac and iLife software bring to storytellers.
iDay 2003 is an eight-hour seminar devoted to iLife as well as Adobe Photoshop, Apple's Final Cut Pro and Express, and DVD Studio Pro. The seminar's focus is on helping Mac users of all levels master today's digital media tools. Registration is $99; a half-off discount to user group members is also available.
For information and to register, visit www.iday2003.com or call (707) 895-2552. See you this Saturday!
iDay 2003 Los Angeles a Hit; Palo Alto is Next!
Our first iDay 2003 seminar took place last Saturday and was a resounding success. Here's a sampling of what our attendees had to say:
"The whole program was fantastic—great speakers—learned so much!!!"
"The "freebies" you provided were icing on the cake."
"Excellent. Walked away with eighteen important notes and action items."
"Best $100 I've spent in a long time!!!"
"See you next year!"
iDay 2003 is eight hours of tip-packed information on iLife, iPod, Photoshop, Final Cut Pro and Express, Mac OS X, and much, much more.
Next up: Palo Alto, February 8. And if you're a Mac user group member, you can register for half price; details here (search for iDay on this page).
See you in Palo Alto!
Join Me at iDay 2003 Los Angeles and Palo Alto
I'm back from what was a fabulous Macworld Expo. I spoke to hundreds of people about the new iLife programs (which I've been working with for some time now) and also demonstrated the programs on TechTV's "The Screen Savers" show.
If you haven't yet visited the iDay 2003 site, check it out! iDay 2003 is a series of fun, informative one-day seminars devoted to the digital hub: iTunes, iPod, iPhoto, iMovie, and iDVD. Joining me on-stage will be Emmy Award-winning filmmaker Harry Marks and veteran Mac trainer Steve Broback.
More tips than your brain can handle. Hundreds of your fellow Mac lovers. A free copy of Portraits & Prints (a great photo-printing utility) for every attendee. Prizes from HP, Roxio, El Gato, Sonic Desktop Software, and Griffin Technologies.
We've got two scheduled so far: Saturday, January 25, Los Angeles Convention Center. Saturday, February 8, Hyatt Rickeys Palo Alto.
$99, including continental breakfast, snack breaks, handouts, and the full version of Portraits & Prints. Such a deal! See you there.
Get a Preview of iLife and Learn About iDay 2003!
At today's Macworld Expo in San Francisco, Apple CEO and cofounder Steve Jobs announced iLife, a software suite comprising iTunes 3, iPhoto 2, iMovie 3, and iDVD 3.
I've been working with the new versions for some time, preparing the upcoming second edition of my book/DVD, now renamed The Macintosh iLife. I've had the pleasure of watching the new versions come together, and the privilege of being able to make a suggestion or two.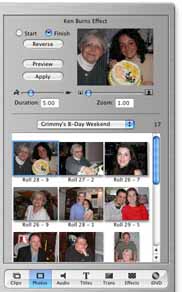 To provide a sneak preview of iLife and the new book, Peachpit Press has published a gorgeous, 16-page color booklet containing excerpts from the new book and additional commentary from yours truly. Learn about iPhoto's new image-enhancement and retouching features and its new library-management features. Check out iMovie's cool new Ken Burns effect and enhanced audio controls. Learn about iDVD's new menu themes and chapter support. And see the media browsers that tie these programs together as never before. (At left: the iPhoto browser in iMovie 3. Controls for the new Ken Burns Effect, which lets you pan and zoom photos, appear above the browser.)
If you're attending the Macworld Expo, get your own copy of The Macintosh iLife preview by visiting the Peachpit Press booth. If you aren't in town—or if Peachpit has run out of copies—you can get an electronic PDF version by going to the iDay 2003 Web site.
iDay 2003 is a series of fun, informative one-day seminars devoted to the digital hub, iLife, Mac OS X, and related products. Check out the site, then sign up! With all the interest in iLife, we're anticipating a seating shortage.
Meet Me in San Francisco! My Macworld Expo Schedule
Happy New Year! Well, I survived my November travels, but December's schedule just about killed me. It may have been busiest month I've ever had. I've been up to some exciting things, which will be revealed in good time.
Speaking of a good time, the Macworld Expo is upon us, and I'll be there. Here's my Expo speaking schedule—stop by, say hello, and bring your digital hub questions!
Tuesday, January 7, 4:00 pm—Interview, TechTV's "The Screen Savers".
Wednesday, January 8, 11:00 am—User Conference Session: From Music to Movies: Secrets of the Macintosh Digital Hub
Wednesday, January 8, 2:00 pm—Digital Hub book signing and Q&A: Peachpit Press booth.
Thursday, January 9, 2:00 pm—iApplications panel. Peachpit Press booth.
Friday, January 10, 11:00 am—MacBeginnings session (free to all Expo attendees): The Digital Hub for Everyone!
Odds and Ends: Apple News Story, and More
November has been a month on the road for me. Last week, I was in Maui, teaching the digital hub applications and Final Cut Pro. (And taking one day off for a spectacular hike.) Tomorrow, I leave for Boston and the Web Design World conference, which I help to produce.
But before I hand over my boarding pass and photo ID, a couple of tidbits.
Apple site features my book/DVD. Writer Nancy Eaton has penned an article for Apple's Hot News site on my book/DVD. Read more about it, and remember, you can buy this first-of-its-kind book from Amazon.com for $20.99.
iDay 2003 planning continues. We at Avondale Media are still hard at work planning our iDay 2003 series of digital hub seminars, which begin in January in Los Angeles. We've got a fantastic array of sessions and speakers lined up, not to mention prize giveaways throughout each day. A full day of tips and tricks for all of the Mac's digital hub programs, a look at the latest Macworld Expo developments, and a chance to win all manner of digital goodies—for $99. To get more information when our brochure is available, just scroll down the page a bit and enter your email address.
And with that, it's time for airline food.
The Case of the Missing iPhoto Sharing Buttons
For some people, iPhoto doesn't like to share. For mysterious reasons, several of iPhoto's sharing buttons—Order Prints, Order Book, and HomePage—don't appear on some systems. I've seen reports of this on the always-terrific Macintouch site and on Apple's iPhoto discussion boards.
Last night, it happened to me.
After moving my main iPhoto library to my PowerBook G4, the copy of iPhoto on the PowerBook wasn't displaying the aforementioned sharing buttons. I thought about trying one of the fixes I've seen mentioned: turning off file sharing. The problem was, file sharing wasn't on to begin with.Other users have recommended more-complex techniques.
What to do? Give up! At least temporarily—I decided to postpone troubleshooting the sharing problem because I had one other task I wanted to perform: patching iPhoto with Simon Jacquier's wonderful iPhoto Mailer Patcher so that I could email photos using Microsoft Entourage rather than Mac OS X's Mail program. I quit iPhoto and ran iPhoto Mailer Patcher.
And what do you know? Upon starting iPhoto again, my sharing buttons were restored.
If anyone has technical insights into why iPhoto sometimes refuses to share, please share them with me. In the meantime, iPhoto Mailer Patcher seems to be an unlikely but potentially useful tool for fixing this problem.
SuperDrive Firmware Update Available—At Least for iMacs
If you have a 15-inch, flat-panel iMac containing a SuperDrive, you have some software to download.
Apple today delivered a firmware update that addresses the potentially disasterous incompatibility between some SuperDrives and high-speed blank DVD media. (For more details, see my SuperDrive coverage page and this page on Apple's site.)
Many older Power Mac G4 computers also contain SuperDrives affected by this problem, but Apple hasn't yet delivered an update for these Macs. The new update works with 15-inch flat panel iMacs only. And it runs only on Mac OS X.
When will updaters appear for other SuperDrive-equipped Macs or for Mac OS 9? Stay tuned, Apple says. And continue to avoid the new high-speed media.
Listen to Me on Digital Village Radio
On Saturday, October 19, I was a guest on Digital Village, a radio show produced by KPFK in Los Angeles. Hosts Ric Allan and Doran Barons interviewed me about the digital hub and much more.
If you missed the show, you can listen to its archive. (RealPlayer required.)
Announcing "iDay 2003," a series of full-day digital hub seminars. During the radio show, I announced iDay 2003: a series of digital hub seminars that we at Avondale Media are producing next year.
Yes, The Macintosh Digital Hub goes live! Mark your iCalendar: Los Angeles, January 25 and San Francisco, February 8 (more cities to come).
iDay 2003: a full day of learning, discovery, and fun—not to mention discounts and prize drawings for digital hub products throughout the day. I hope to see you there!
4x DVD Burning: Is Faster Better?
Here come faster SuperDrives. Pioneer Electronics today announced its DVR-A05 DVD burner, which supports 4x burning to DVD-R blanks and 2x burning to DVD-RW media. (Download PDF brochure.) It's a safe bet that Apple will use these drives, which will be available in November, in a future Mac model.
But is faster better? Not necessarily. Many DVD-authoring gurus recommend burning at slow speeds for improved compatibility with living-room DVD players. It seems that slower burning speeds result in fewer data errors, and that makes it easier for many consumer DVD players to play back DVD-R discs.
iDVD doesn't enable you to specify a burning speed, but Roxio's Toast 5 Titanium does. When I'm creating a DVD that I plan to send to someone who will be using a consumer DVD player, I use Toast to burn the DVD at 1x speed.
Because faster isn't always better.
iPod Software 1.2.1: Good to Go
One of the things that makes Apple's iPod portable music player so versatile is that Apple can add new features by releasing iPod software updates. Download an iPod update, install it, and your iPod instantly gains new features.
Since the iPod debuted, Apple has released two major updates to the iPod's internal software. Version 1.1 turned the iPod into an address book that can store contacts and other notes (see the "iPod as Address Book and More" section of The Macintosh Digital Hub book).
This summer, Apple released iPod software 1.2, which gives the iPod calendar, clock, and alarm features, support for the new features in iTunes 3, and some tweaks to the iPod's menu screens.
There's just one problem: on Apple's iPod discussion boards and elsewhere, many people have been complaining that version 1.2 of the iPod software causes their iPod's battery to drain quickly. Some people have even "downgraded" their iPod software back to version 1.1 in order to get their battery life back to normal. (Apple no longer provides older versions of the iPod's software, but you can download them on this site.)
I'll admit that all of these horror stories had an effect on me: fearing battery problems, I didn't upgrade my original, 5GB iPod. Sacrifice battery life for a calendar and alarm clock? No, thank you.
Was the iPod 1.2 software causing the iPod's battery to drain more quickly? According to iPod product manager Stan Ng, no. When I spoke with him a few weeks ago, however, he said that Apple was investigating the possibility that version 1.2 did not accurately display how much charge was left in the iPod's battery. In other words, version 1.2 wasn't draining the battery faster—it just wasn't keeping accurate track of the battery's charge.
Last month, Apple released version 1.2.1 of the iPod software. Apple didn't explicitly say that 1.2.1 fixed a battery-charge problem. The 1.2.1 download page simply says "iPod Software 1.2.1 fixes a problem with the battery icon. It now correctly indicates a full charge."
That was good enough for me. I rolled the dice and upgraded my original, 5GB iPod to version 1.2.1. I've been testing it for about a week now, and my verdict: it's good to go. With a full battery charge, my iPod plays for more than 10 continuous hours. I recommend the 1.2.1 software without hesitation.
But not everyone seems happy. Some users are still performing workarounds to get more battery life on iPods running 1.2.1. On the Macintouch Web site, one user says that turning off the iPod's sleep timer has improved his battery life. I don't see how that would make a difference.
If your iPod battery doesn't seem to be delivering the juice, try this: recharge the iPod overnight. Then, navigate to the Songs menu and begin playing your entire music library. Let the iPod play and play and play—you should see about 10 hours of playback time.
Remember, the iPod is always on, even when it's sleeping. That's what enables it to instantly swing into action when you press a button. So don't be surprised to see the battery drain over time, even when you aren't playing music all the time.
Apple has also posted some tips for getting more life out of an iPod's battery.
Having battery problems with version 1.2.1? Write to me with the details.
Playing Catch-Up
It's been well over a week since I've added anything to this site. It's been a horrible week. After 13 happy years, we had to say goodbye to our dear dog Trixie (who appears throughout the book and the DVD). I subsequently got sick and have been playing catch-up ever since.
I have some interesting things in the works for this site, including a report on the iPod 1.2.1 update and a comparison of iPod utilities. I'll be posting these items in the coming days.
In the meantime, I've consolidated all the information on the overheating SuperDrive saga, and put it on a new SuperDrive page along with some links and additional information about Apple's DVD burners.
The Overheating SuperDrive Saga: Apple's Response
This information has moved to the SuperDrive page.
A Sneak Peek at Toast 5.2 Titanium
Roxio's Toast Titanium has always been the premiere software for burning CDs and DVDs on the Mac. The best is about to get better. Roxio is going to ship a free update—version 5.2—probably next week, but maybe as early as tomorrow.
I spoke with Toast product manager Adam Fingerman today, and learned that Toast 5.2 brings some interesting new features and improvements to the burning bash.
CD-Text Support
Toast 5.2 brings a first to Mac OS X by adding support for CD-Text. CD-Text is an extension to the audio CD specification that enables an audio CD to store album, track, and artist information—something audio CDs normally don't do. Many car CD players and high-end CD players provide displays that can show this information as a CD plays back.
The new version of Toast will enable you to work with CD-Text in a couple of ways. If you're simply copying an audio CD, Toast 5.2 will retrieve the artist, track, and album information from Gracenote and then add this information to the copy that you're making—simply click the new CD-Text checkbox, and it all happens automatically, behind the scenes.
Alternatively, you can manually edit each track's ID3 tags to customize the CD-Text that will be burned on to the disc.
Improved Video CD Encoding
I talk about Video CDs extensively in The Macintosh Digital Hub book—they're a nice way for people who don't have DVD burners to create video discs that play in most DVD players. On a Video CD, video is encoded in MPEG-1 format, providing picture quality roughly comparable to that of VHS videotape.
According to Roxio, Toast 5.2 Titanium provides higher-quality encoding, with better color fidelity. Roxio also says encoding performance is faster than in earlier Toast versions: about 20 percent faster on single-processor Macs, and twice as fast on dual-processor Macs.
Disc Tattooing
Yamaha recently delivered a CD burner, the CRW-F1, that can tattoo your discs—it uses the burner's laser to burn text and graphics onto the data side of the disc. A disc's data is written from the inner area of the CD to the outer area. If you haven't filled the entire disc, you can burn text and graphics in the usused portion. (For more details, see Yamaha's site.) Yamaha calls this feature DiscT@2—a trying-to-be-cool way of spelling disc tattoo.
Toast 5.2 will include an updated version of Magic Mouse Discus, the label-design program that Roxio has been bundling with Toast Titanium for some time. The new version will enable you to create designs that can be tattooed onto discs using Yamaha burners.
Free Upgrade
For some users, the best news will be that Toast 5.2 is fully compatible with Mac OS X version 10.2.x. The current version of Toast, 5.1.4, misbehaves on some systems running 10.2.x. Roxio says the new version is fully compatible with 10.2.
The Toast Titanium 5.2 update will be a free upgrade for Toast 5 Titanium users, and will be available for the downloading from Roxio's Web site. The Mac world's best burning software lists for $99.95, but Amazon is selling it for $76.99.
Major Innovation in iTunes 3.0.1
Last week, Apple delivered iTunes 3.0.1, a minor update. Apple is vague about what the new version brings to the MP3 party, saying only that it "includes a number of performance enhancements and provides improved support for Mac OS X v10.2."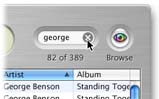 Well, there is at least one visible change in iTunes 3.0.1, and it's a small but significant one. When you do a search in iTunes 3.0.1, a small, clickable x appears at the right edge of the search box (see the adjacent screen shot). If you click the x, iTunes clears the contents of the search box. In previous iTunes versions (including 3.0), clearing the search box was a two-step process: you had to select the text and then press your keyboard's Delete key.
Okay, so maybe this isn't a major innovation. But it's a welcome time-saver.
Find any other new goodies in iTunes 3.0.1? Share them!
Overheating SuperDrives: More Details
This information has moved to the SuperDrive page.
Have a DVD Burner? Read This Now
This information has moved to the SuperDrive page.
Books on Bytes: Some Useful Links for Audible.com Content

One of the enhancements in iTunes 3 and iPod software 1.2 are their support for spoken-word content from Audible.com. Think of Audible's offerings as books on bytes: you can buy and download spoken-word content ranging from complete books to newspaper and magazine articles to National Public Radio broadcasts.
But working with Audible's offerings isn't quite as straightforward as ripping and mixing MP3 files. Audible's content is copy-protected, and that introduces a few wrinkles that can trip you up.
To help you keep your footing, here are some useful links for working with Audible's audio. If you're new to Audible, start with the first link and work your way down.
iTunes 3 and Audiobooks—An introduction from Apple's site.
What You Need to Listen—From Audible's Web site.
Getting Started with Audible—This PDF file (634K) is an 18-page guide to using the Audible service. (You'll need the free Adobe Acrobat Reader to read this.)
How to Add Spoken Word Content to Your iTunes Library—An Apple technical support document.
iTunes 3: About Using Audible Spoken Word Files—How iTunes 3 works with Audible files. Also from Apple's tech support Knowledge Base.
iPod 1.2: About Using Audible Spoken Word Files—How iPod Software 1.2 works with Audible files. Also from Apple's tech support Knowledge Base.
And what about your favorite radio talk show hosts or Internet radio shows? You can rip them, too. Just check out the iTunes section of The Macintosh Digital Hub book for complete instructions on how to record Internet streaming audio on your hard drive and then add it to your iTunes music library.

Amazon Adds "Look Inside" Excerpts from the Digital Hub Book
Amazon has finally published excerpts from The Macintosh Digital Hub book on its Web site. Here's your chance to peruse more than 30 pages of this beautiful, full-color book and see just how different it is from other computer books.
Notice the icons that point you to specific chapters on the book's accompanying DVD. Notice how each two-page spread is a self-contained tutorial or set of tips. Check out the excerpts, and see why one reader called this "the best computer book ever, bar none" and why MyMac.com said this book sets "the new standard by which all other Mac books should be judged."
My Brother, the Jazz Ambassador
Okay, so today's dispatch doesn't directly deal with the digital hub. It does deal with it indirectly—it's about music.
Specifically, it's about the blues. One of my brothers, Bill Heid, has just embarked on a three-month tour of Asia as part of the US State Department's Jazz Ambassadors program, in which American musicians tour the world sharing one of America's cultural treasures: jazz. (Now this is how our tax dollars should be spent.)
Today, I stumbled on a RealVideo archive of a concert that my brother's trio performed at Washington, DC's Kennedy Center last week, just prior to his departure. It's a very good archive—good audio and even good video—and if you like blues and jazz, you might want to check it out. (RealPlayer required.)
While you're listening, check out Bill's albums and albums that he has appeared on. And check out this ancient page from my Web site, where you can listen to another Bill Heid blues—this one with yours truly on the electric bass.
Safe travels, my brother.
NewTek Offers Free Textures: Great for DVD Menu Backgrounds
NewTek is a pioneering company in the desktop video world. Back in 1990, it made its name with the Video Toaster system for the Commodore Amiga. NewTek has since moved on to Microsoft Windows pastures, but today the company released some free goodies that iDVD and iMovie users might be interested in.
NewTek's Texture Collection is a set of 50 texture graphics: metal, wood, sky, stone, and more. These high-resolution (1600 by 1200 pixels), JPEG-format images make great backgrounds for DVD menus or video titles.
Go get them at NewTek's site. (Registration is required and is free.)
Your Humble Host Interviewed on MacNET's "Radio Waves"
Yesterday, I had the pleasure of talking with John Manzione, host of MacNET's "Radio Waves" Internet radio show. We talked about the digital hub, Apple's decision to begin charging for its .Mac (formerly iTools) services, and much more.
You can listen to the show at MacNET's Web site.
Dye-Sub Printers: Cheaper Than Ever, But Who Needs One?
Yesterday, Sony announced two new dye-sublimation photo printers. The low-end model, pictured here, sells for "about $200," Sony says.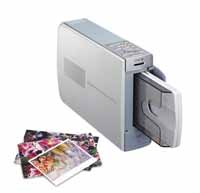 And I find that amazing. Back in the last millennium, I used to be Mr. Printer—I wrote most of Macworld magazine's printer features, often spending weeks testing monochrome and color printers in the magazine's lab.
I wrote about some of the first dye-sub printers and marvelled at the true photographic results they produced. But they were huge beasts that cost USD $15,000 and more. And now you can buy one for $200.
To be sure, Sony's DPP-EX5 doesn't have the features that the big beasts had. Most significant, its maximum page size is a relatively small 4 by 6 inches. But still: a dye-sub printer for $200.
In the DVD that accompanies The Macintosh Digital Hub book, I demonstrate another Sony dye-sub photo printer: the SV-77. It's an appealing little beast whose touch-sensitive screen lets you specify print options and even view images from a Memory Stick or other media card. Another of Sony's newest printers, the $450 DPP-EX7, sports a similar design and ships in October.
(Alas, Sony doesn't have Mac OS X drivers for the SV-77, at least not that I've been able to find. I hope the new machines provide Mac OS X drivers.)
These printers produce gorgeous results, but do you really need one? The best of today's inkjet color printers produce spectacular results that are difficult if not impossible to distinguish from dye-sub prints, not to mention true photographic prints. And the printers and their media cost less. (Sony charges $19 for paper and media to print 25 four-by-six-inch prints.)
Do you have experience with both types of printers? Which do you prefer, and why? Or do you simply use iPhoto's online photo ordering to get your prints. How do you print your color photos? Write to me with your answers, and I'll publish some of your responses here.
iTunes Does AAC Audio (Sort Of)

AAC, short for Advanced Audio Coding, is a form of audio compression that provides great sound quality and small file sizes. Think of it as a more sophisticated, more efficient answer to MP3.
Better sound, smaller files: Don't you wish you could use AAC when ripping CDs for use in iTunes? Alas, you can't.
iTunes 3 can play back files compressed in AAC format. However, iTunes 3 can't rip a CD into AAC format. How can you play a track if you can't rip it to begin with?
With this workaround. Doug Adams has created an AppleScript applet that allows you to rip into AAC format. The applet is called Make Mine MPEG-4 and, in Doug's words, "automates the process of ripping CD tracks with iTunes 3 and encoding them with QuickTime 6 Pro as MPEG-4 audio files. The tracks are then added to your iTunes Library."
Note that you need the $29 QuickTime 6 Pro for this to work. (Apple's QuickTime 6 supports AAC compression, and Make Mine MPEG-4 relies on QuickTime Player Pro.) In the end, you might find it more trouble than it's worth—for my iTunes needs, MP3 does the job. But if you're curious about what AAC brings to the audio party, download the script and try it out. (If you like the script, please pay Doug the $5 shareware fee.)
Regardless of whether you grab this applet, poke around on Doug's site. It's the ultimate collection of AppleScripts for iTunes, the iPod, and more—a great source for free or cheap software that automates and enhances the hub.
More iDVD Details

In last week's review of iDVD 2.1, I lamented the fact that the new version doesn't allow you to create multiple-line menu titles or button labels by pressing Option-Return. (Earlier versions did.)
Reader to the rescue! Derrick wrote in with an easy workaround: Type your multiple-line text in a text editor (I used Word X), then paste it into iDVD. I've added more details to the iDVD review.
And while we're talking iDVD, I'll pass on a link to an article that I found very useful. This is from DV magazine's August 2002 issue, and it's an in-depth report on the ugly fact that some DVD players can't play DVD-R media. The report, by DVD guru Ralph LaBarge, finds that media manufactured by Mitsui delivers the most reliable results.
You can read the full article on DV's site, but you must register first. (It's free.) You'll find links to more compatibility-related sites on my iDVD resource page.
Apple's Biggest Fan
Apple's latest Power Macs have many fine attributes, but silence isn't one of them. On the always-excellent Macintouch site, a reader has submitted photos of a wooden sound-deadening enclosure that he built for his brand-new Power Mac G4.
My main workhorse Mac is an older dual-gigahertz G4, and it, too, does an uncanny imitation of a 737. The G4 is in a cabinet 25 feet away from my desk (I use Gefen monitor and keyboard extenders), and I can still hear its whining.
Memo to Apple: We shouldn't have to build coffins for our computers in order to hear our music—or hear ourselves think.
The Hub Spins
Starting next week, I'll be updating The Hub's home page much more often—maybe even every day (horrors!).
Is The Macintosh Digital Hub Site becoming a blog? I'll admit that I've never warmed up to the word—it sounds like a noise an overly partied frat boy might make.
Let's just say that I want to make this site a resource for folks who use the Mac's digital hub programs and all of the hardware and software goodies that orbit around them.
And if you've bought my book/DVD, look for the first members-only features to appear on this site next week, too. Some sites attempt to bring in bucks by asking you to donate via PayPal and the like. Other sites experiment with subscription-based business models. Me, I just want to sell my book/DVD. So buy now and join The Hub.
But enough about me. (See? I'm getting into the blogging spirit already.) Let's move on to some real content—specifically, a detailed look at a new version of one of the cornerstone digital hub programs.
iDVD 2.1 Burns Brighter

Between the roar of Jaguar and the cacophony of iTunes 3, you may not have noticed that Apple has also recently revised one of its most innovative and elegant pieces of software: iDVD.
Previously on The Hub...
August 20, 2002: MyMac.com Reviews the Book/DVD
MyMac.com, a Web site for Mac fans, has published a review of "The Macintosh Digital Hub."
"All content, all the time, at half the price you would expect to pay. My hat is off to Jim Heid, PeachPit Press, and Avondale Media for a job well done.
I strongly recommend The Macintosh Digital Hub.
MacMice Rating: 5 out of 5"
My thanks to MyMac and publisher Tim Robertson for the kind words!
July 21, 2002: A Hot Time at Macworld Expo New York
On July 19, I had the pleasure of speaking on the subject of the digital hub at the spectacular new Apple Computer retail store in SoHo. The crowd was great and we all had a good time.
Indeed, the entire Macworld Expo was a fun one, even if it was sullied by the unfortunate news that Apple will now be charging for its iTools—er, .Mac—services. The reaction to my book/DVD was very gratifying, and I appreciate all the kind words from folks with whom I had the pleasure of speaking.
iTunes' New Tune: A review of Apple's iTunes 3. Also, Apple releases iDVD 2.1 update. New version adds AppleScript support.
The Digital Hub Gets a New Spoke: TV. A preview of El Gato Software's EyeTV