Posted Monday, May 23, 2005
Flickr Fun Continues: Make Your Own E-Postcards from Flickr Photos

If I loved Flickr any more, we'd have to get married.

Toby Malina, my friend and co-author on Sell it On eBay, turned me on to yet another site that taps into Flickr in a cool way. The site is called Delivr, and it lets you send free electronic postcards bearing images from Flickr.

It's a cinch to use. Type a tag—as always, I recommend poodle—and then pick an image and type a greeting. You can preview your card with a click, and send it on its way with another one.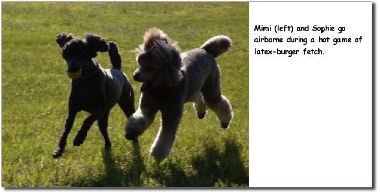 Delivr taps into all the publicly accessible Flickr photos that have been published with Creative Commons licenses. Specifically, the photos must be published with a license that allows derivative works, since that's what an e-postcard is. If you want to use your own photos as postcard fodder and you haven't uploaded them under a Creative Commons license, you can use Flickr's batch edit features to update their licensing. You can also set a default license for all photos that you upload.

Tip: To make it easy to locate your own photos through Delivr, assign your photos a tag that corresponds to your Flickr ID. Here's a subset of my photos.

And there you have it: yet another cool thing to do with you your photos. (And wow, sending an e-card via Delivr is a lot easier than doing so through Apple's .Mac service.)

Toby said it best: "Flickr ROCKS."

Check Out Our New eBay Selling Blog
Speaking of my friend Toby, she and I have started a blog that covers the delights of selling on eBay. It's in its infancy: it still has that new blog smell, and we're still working out the design and other details. But if you're interested in eBay selling (I do it to satisfy my digital camera addiction), check out the site and consider subscribing using your RSS newsreader.