Posted Tuesday, October 04, 2005
Use Tiger? Add Some Image Tricks to Your Photos

I had a great time at the Mac Computer Expo in Santa Rosa last Saturday. It was a gorgeous day for a drive (I live a couple of hours north of Santa Rosa), there was a good crowd, and I saw many friendly and familiar faces. In all, it was a great antidote for the doldrums that I've been floating in lately.

My seminar topic was called "iLife in the Land of Tiger," and was a collection of Tiger-related iLife tips. As part of my talk, I showed several Tiger-only programs that enhance iLife in one way or another, and one of them is a very cool piece of freeware that you must try.

Image Tricks or Treats
The program is BeLight Software's Image Tricks, and it lets you easy modify and stylize photos in a variety of fun ways.

Drag a photo into the Image Tricks window, and you can apply over 35 filters and effects to it. You can also add any of 30 mask designs to the image—to create artsy borders, for example.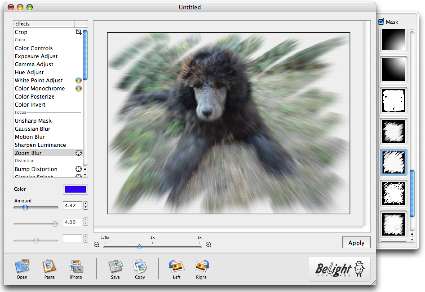 In the example above, I've added the Zoom Blur effect and a mask.

Image Tricks taps into Tiger's CoreImage, a set of graphics-processing routines that is built into Tiger.

There's room for improvement. On older G4 Macs, Image Tricks runs sluggishly (but then, what doesn't?). And although BeLight Software touts Image Tricks' iPhoto integration, the two programs don't work together as smoothly as they could. When you drag a photo from iPhoto into Image Tricks, it opens as an untitled document, which makes it cumbersome to use your "tricked-out" photo in iPhoto: instead of just being able to use the Save command, you must save the image in a separate location (such as on your desktop), and then drag it into iPhoto.

But you can't argue with the price. If you use Tiger, you'll want to try out this fun and free program. Go download it now.

And while you're online... Grab yourself a copy of the world's best-selling iLife book. With The Macintosh iLife '05, you get 345 gorgeous, full-color pages and a two-hour, 43-minute instructional DVD. Learn more and watch samples from the DVD, then order your copy for just $23.09—34 percent off the cover price.