Posted Friday, October 14, 2005
How to Convert Your EyeTV Recordings for a Video iPod

Bought any episodes of Desperate Housewives yet? Me neither. Don't get me wrong: I think Apple's toe in waters of downloadable video sparkles with brilliance. I just think Marcia Cross deserves more than a 2.5-inch screen.

While the pundits prattle about whether there's a market for pay-to-squint music videos, I'm thinking about other forms of video. When I get my video iPod, I'm going to want to rip DVDs to it. And I'm going to want to stash and carry video that I've recorded using Elgato Systems' EyeTV system.

The DVD-ripping part of the equation will be interesting. The universally loved Digital Millennium Copyright Act outlaws programs that would enable us to rip a DVD into the H.264 format used by new iPods. There are programs that can rip DVDs, but converting that content into H.264 format is cumbersome. (Instructions here.) The good news, of course, is that programmers will work around these limitations, and it won't be long before you'll be able to watch Harry Potter on your pod.

The EyeTV Angle
Video from an EyeTV is a happier story. The terrific EyeTV software can already export video into a variety of formats, including H.264. And sometime next month, an Elgato representative tells me, the company will release an update that will provide a preset for iPod video -- and will even provide an option to automatically add the exported video to iTunes 6.

In the meantime, you can export EyeTV video for an iPod without too much work -- and you don't even have to own QuickTime Pro in order to do so.

Here's the process, direct from the folks at El Gato.

Step 1. In EyeTV, choose Export from the File menu.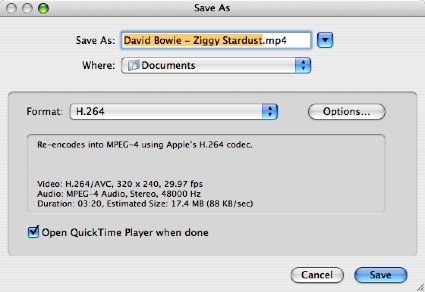 Step 2. From the Formats pop-up menu, choose H.264.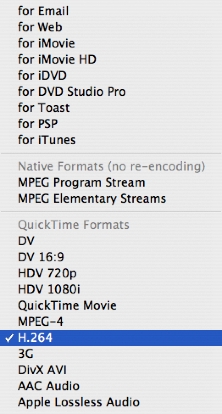 Step 3. Click the Options button, then set up the dialog box as shown below. (For video in PAL format, choose 25 as the frame rate. If you're converting 16:9 widescreen video, choose Custom from the Image Size pop-up menu, then enter 320 x 180.)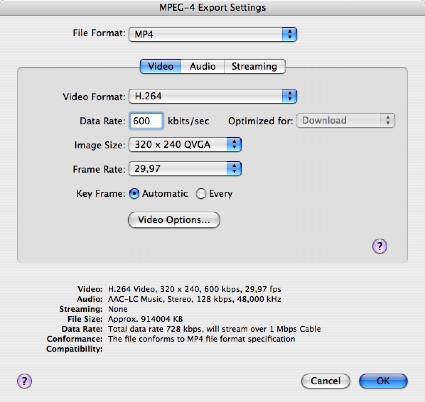 Step 4. While still working in the MPEG-4 Export Settings dialog box, click the Video Options button. In the dialog box that appears, check the Baseline box.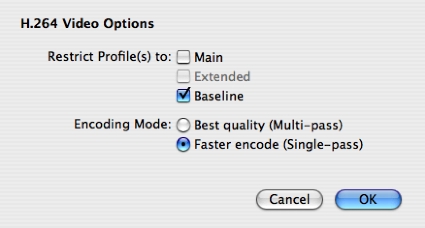 Step 5. Click OK a couple of times and wait for the EyeTV software to do its thing. Then add the resulting video to iTunes 6 and sync up.

The EyeTV folks provide a disclaimer: they don't yet have a video-capable iPod, and these instructions are based on their analysis of the new iPod's video specifications. But it ought to work.

One More Thing
Just one last thing. Apple claims that the iTunes 6 experience is identical on Macs and Windows. However, sources within the company have told me that Desperate Housewives are, in fact, more desperate when using Microsoft Windows, and episodes of Lost are, in fact, easier to lose.

I jest, of course. Have a great weekend!

One more "one more thing." The world's best-selling iLife book is still on sale at Amazon. A gorgeous, full-color guide to all five iLife programs and a two-hour, 43-minute instructional DVD that's also packed with iTunes AppleScripts, GarageBand loops, sample files, and much more. The Macintosh iLife '05 has a cover price of $34.99, but it's yours on Amazon for $23.09—34 percent off. Learn more about what one reviewer called "the best computer book ever, bar none." Then order yours.