Posted Friday, April 15, 2005
A Detailed Look at What's New in iPhoto 5.0.2 (Updated)

Just in time for the weekend, Apple has released updates to iPhoto, iMovie HD, and iDVD.

All of the updates fix some serious bugs, and some of them bring some welcome new capabilities. I'll look at iDVD 5.0.1 and iMovie HD 5.0.2 in future posts. For now, let's focus on photos and iPhoto 5.0.2.

Finally!
Because of some unfortunate bugs, iPhoto 5 debuted to less-than-glowing reviews; yours truly gave it 3.5 mice in Macworld. Apple has fixed some critical flaws in 5.0.2, and if I had reviewed this version for Macworld, I'd give it at least 4 mice.

But enough with the rodents. What's new?

Better slide show timing. In previous iPhoto versions, the Fit Slideshow to Music option just plain didn't work. In version 5.0.2, it does. When you click the Fit Slideshow to Music check box, the Slide Duration checkbox now becomes dimmed. Which makes sense—why enable you to specify a duration when you're asking iPhoto to automatically set a duration?

And if you select a short song for slide show that contains a lot of photos, iPhoto is now smart enough to give you a warning that you don't have enough music for your slide show.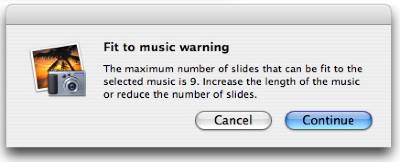 Resizable thumbnail display. This is a nice one: the little thumbnail photo browsers that appear in edit, book, and slide show views are now resizable. To make the thumbnails smaller or larger, drag the horizontal separator below the thumbnails up or down. If you have several photos that look a lot alike, making the thumbnails larger can help you determine which photo is which.

See for yourself: I've created a small (236K) QuickTime movie that illustrates this handy new capability. To view the movie, click here.

Slide shows export correctly to iDVD. In previous iPhoto versions, when you exported a saved (cinematic) slide show to iDVD, you'd often get a squished-looking movie. iDVD wasn't properly translating the aspect ratio of the movie. With the updates, this critical feature now works the way it should have all along. Note: In order to get the correct results from slide show exports, be sure to install both the iPhoto 5.0.2 and iDVD 5.0.1 updates.

Keyword searching has changed. In iPhoto 5 and 5.0.1, you couldn't use the Keywords pane to perform an "AND" search. For example, if you have the keywords Sophie and Beach, you couldn't click them both to do a search for just those photos of Sophie taken at the beach. If you did click them both, iPhoto would broaden the search—for example, showing all photos of Sophie and all photos taken at the beach.

In iPhoto 5.0.2, when you click additional keywords, iPhoto applies them cumulatively, in what computer geeks would call a "logical AND" fashion. (This means that a workaround I wrote up on page 117 of my new book is no longer needed. Sigh. Ah well—that's why my book has a companion Web site.)

Incidentally, this "logical AND" scheme was the approach used by iPhoto 4. Many iPhoto users complained about the change in iPhoto 5, and Apple, to its credit, listened.

Update: If you want the original "logical OR" approach, press Shift while clicking on another keyword.

Better performance on G3 systems. I haven't tested this—my only G3 system is a PowerBook G3 whose display is currently, well, not displaying.

(Somewhat) smarter book formatting. Many times, I've wanted to adapt an existing iPhoto book layout to a slightly different format. For example, the large hardcover and large softcover designs both provide similar design themes, so it'd be nice to be able to produce one hardcover version of a book and several softcover versions.

Alas, iPhoto fell flat at this simple task. If you'd switch themes, you'd lose all your page formatting.

As my colleague Chris Breen pointed out last week, iPhoto 5.0.2 is a bit smarter in this regard.

My own tests bear this out—more or less: I took a complex book design that used the hardcover Travel theme, and switched to the large softcover Travel theme. iPhoto did indeed retain most of the page formatting, but it didn't retain custom font formatting and some photo zooming settings. Version 5.0.2 is a big step in the right direction, but there's still room for improvement here.

Cool new library-rebuilding options. It's worth mentioning that the iPhoto 5.0.2 update does not require you to rebuild your photo library. But if you do hold down the Command and Option keys while launching iPhoto 5.0.2, a new dialog box appears that gives you several options for rebuilding your photo library.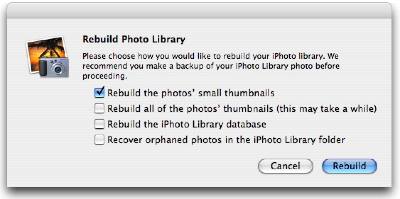 Selectively employing these options can be a great way to improve iPhoto's performance or fix problems. I'll have to more to say about them in future postings.

For now, if you're using iPhoto 5, sprint over to Apple's site and download 5.0.2. It appears to be the update iPhoto 5 has needed to reach its potential.

If it isn't in the book, it's on the site. iLife is a moving target, with updates and new companion programs coming all the time. That's why The Macintosh iLife '05 is the only iLife book with a comprehensive companion Web site. The book and its 2.5+ hour instructional DVD are making their way into warehouses even as I type; pre-order your copy from Amazon for $23.09—a whopping 34 percent off the cover price. It'll ship any day now.