Posted Thursday, April 28, 2005
About the SuperDrive Firmware Update, Welcoming Audio Hijack 2.5, and My "User Group Report" Interview

Apple has released a SuperDrive firmware update that you might consider running if you have an eMac with USB 2.0 or a Power Mac G5 manufactured in 2004.

(Backgrounder for newbies: Firmware is another jargon term for the low-level software that many devices use. Your digital camera contains firmware, as does your iPod—and your SuperDrive. Rather than being permanently carved into silicon chips, firmware is stored in a way that enables it to be updated to add features or, more often, fix bugs.)

Apple's download page couldn't be more vague when it comes to describing what the update addresses: The SuperDrive Firmware Update delivers updated SuperDrive firmware to improve reliability when accessing DVD and CD media.

But as usual, the intrepid Mac community is on the case. According to reports on Apple's discussion boards and on the hardware heaven site XLR8YourMac.com, the firmware update is for only those SuperDrives manufactured by LG/Hitachi.

So does your drive need the update? One way to find out is to download the update and run it. If you don't have an affected drive, a message appears stating that your Mac doesn't need the update.

You can also determine the drive's manufacturer (and a lot more) by choosing About This Mac from the Apple menu, then clicking the More Info button to run the Apple System Profiler utility. When the utility starts, click the entry that reads ATA and check out the right-hand side of the System Profile window. Information about your drive appears there: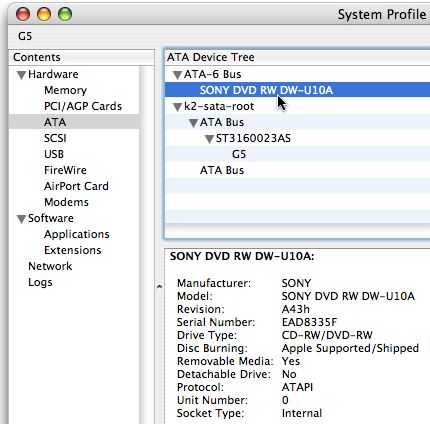 As the screen above shows, my Power Mac G5 has a Sony-built SuperDrive and didn't need the update. But if your System Profile reads HL-DT-ST DVD-RW GWA-4080B or HL-DT-ST DVD-RW GWA-4082B, your drive may benefit from the update.

Audio Hijack 2.5
Rogue Amoeba Software has shipped a hot-sounding update for its superb Audio Hijack Pro application, which lets you record streaming Internet audio and so much more. (I cover the topic at length in The Macintosh iLife '05.)

What's new? Here's a snippet from the press release: "Version 2.5 [provides] several major new features in addition to Tiger compatibility. Audio Hijack Pro's timers are now much smarter, alerting users to overlaps, as well as being exportable to iCal for calendar viewing. In addition, Audio Hijack Pro now offers a "Radio" input option with custom support for the Griffin RadioShark and D-Link DSB-R100 USB radios, as well as a new "System Audio" input to allow recording of all audio being played.

Additional feature improvements include full AppleScriptability, a new Disk Status window showing available disk space on all volumes, and the new Application Mixer plugin, great for creating Podcasts."

Listen to "My User Group Report" Interview
I recently had the chance to ramble about iLife, Macs, and my book in an interview with Chuck Joiner, editor in chief of the MUG Center and host of its always-interesting Internet radio show, The User Group Report.

You can listen to the show or download an MP3 archive for your iPod.