Posted Wednesday, January 26, 2005
Secret Apple Marketing Plan Revealed: Say Hello to iPoodle

I'm so excited I could pant.

A while back, I read about PodAPic on Leander Kahney's Cult of Mac site.

PodAPic will take an image you supply and, for a lowly $3.99, modify it to mimic an Apple iPod advertisement.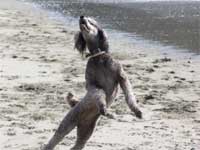 Being a childless dog owner (you know who you are and you know what I mean), I knew I had to try it. So I sent them this photo of Sophie, our standard poodle, leaping with joy at the beach.

This morning's email brought the final results. Check it.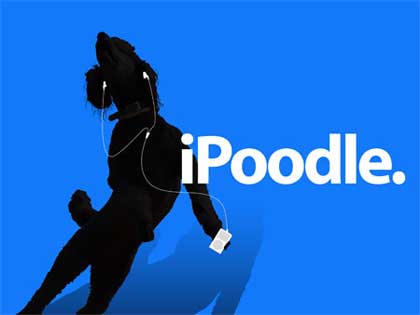 PodAPic will take a JPEG image of up to 2MB, and returns a JPEG of the same resolution. You can even choose between a standard iPod or a shuffle.

So. The question now is, do I have this image put on a T-shirt or a mousepad? Or both? The possibilities are exhilarating. This is what personal technology is all about.

PodAPic: Highly recommended.