Posted Friday, December 24, 2004
Happy Holidays via QuickTime VR, and a Salute to Santa

A few minutes ago, five deer trotted past my office window here in downtown Albion, California (population 398). I joked to my wife that they'd better rest up for tonight.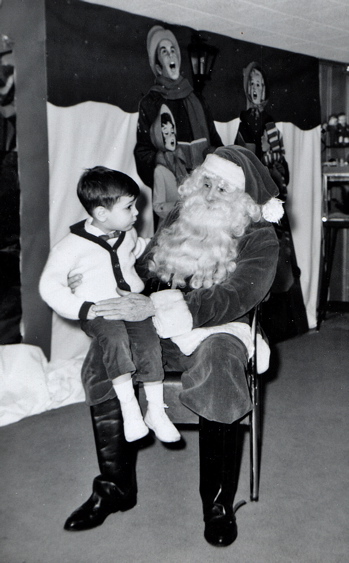 This photo, taken around 1964, shows your humble host sitting on Santa's lap. But that's no ordinary Santa -- that's my dad. George Heid was a radio and recording industry pioneer, a singer and songwriter, and an actor. At Christmas, he'd frequently don his Santa suit for charity events and children's TV shows.

He was also a master of what I like to call the analog hub. I grew up with his 16mm movies, black-and-white photos, and family audio recordings, and I guess it's no surprise that I embraced movie making, photography, and audio in my own personal and professional life.

Yesterday marked the thirty-first anniversary of my father's death, and I always reflect on his life and his influence at this time of year.

Back in 1998, I made a digital holiday card containing a QuickTime VR panorama and a recording that my dad made in the 1940s. Every Christmas, I like to unpack this digital ornament, dust it off, and spend a few minutes in the company of the Ghost of Christmas Past.

So check it out and pass it on. And have yourself a merry little Christmas.