Posted Thursday, December 02, 2004
Happy Holidays! Here's a Free Update to My Book

I haven't been posting many dispatches here lately -- so what have I been up to?

I've been working on your holiday present.

I've just completed a 16-page, 10,000-word update to my book. The update is called, with apologies to Robert Allen and Al Stillman, There's No Place Like iLife for the Holidays.

The update is devoted to using iLife during the holiday season: how to buy music for someone at the iTunes Music Store, how to combine multiple digital cameras to multiply your picture taking power, how to make better movies and DVDs, how use iMovie freeze frames for cool, holiday-themed effects, and more.

There's also a section on using iPod Photo to replace your Kodak Carousel slide projector for those holiday slide shows, and there are step-by-step instructions for printing (and properly folding and trimming) your own photo greeting cards.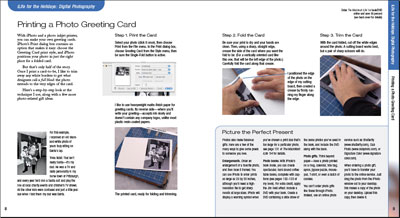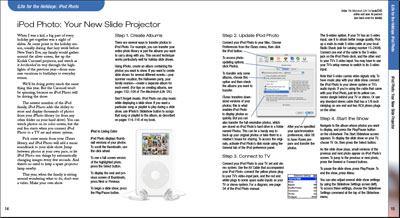 As you can see, the update shares the same beautiful design as my book, The Macintosh iLife '04. And it's free -- my way of saying "happy holidays" to the Mac world.

To get the update, just jump over to this page and enter your email address and zip code. The PDF will be emailed to you instantly. (Worried about drowning in a torrent of spam? Don't be. We at Avondale Media don't work that way. We send email only sporadically, and we never, ever send an email that doesn't begin with a tip or two.)

There's More: A Free DVD
The back cover of my holiday update contains a special offer: get a free copy of our instructional DVD, "Go Digital: Tips for Your New Camera."

So grab the update, print it out, and put a little more sparkle in your holiday media.

Give the Gift of iLife
If you're shopping for present for the Mac user in your life, might I humbly -- aw, shucks, not-so-humbly -- recommend The Macintosh iLife '04. 300 gorgeous, full-color pages plus a two-hour instructional DVD -- for $20.99? No wonder MyMac.com called it "a screaming deal." Grab some excerpts, and then go scream for yourself.

And Happy Holidays!