Posted Friday, July 23, 2004
Forget AirPort Express: Say Hello to iHome

Now that Apple has shipped its AirPort Express portable base station and music sharing doodad, everyone seems to be talking about streaming music throughout their houses.

Jonathan Q. Woolson is way ahead of them.

Jonathan is the superbly talented designer and compositor who has produced all three editions of my iLife book, not to mention the eBay seller's guide that I co-authored with Toby Malina.

He's also a serious Mac geek.

He recently wrote to tell me about a home media system that he created using a variety of off-the-shelf components -- including a PowerBook G4 with a broken screen that he bought on eBay.

He calls his system iHome, and here, in his words, is how he describes it.

The Goal
Integrate our computer, audio, and video devices into a single, switchable system to make it easy to listen to music from iTunes or record audio and video to disk for editing and archiving.

Primary Components
1. PowerBook G4/550.
2. Samsung 170MP 17" LCD monitor w/TV tuner.
3. Formac Studio/TV tuner FireWire A/D AV converter.
4. Two AV source selector boxes that allow just about any audio or
video input to be routed to any output (TV, Stereo, DV converter, and so on)
5. A stereo/DVD home theater-type system.

PowerBook/Server
The PowerBook G4/550, dubbed an "iServe," is a wafer-thin (.75" slab) personal home server that sips power at 45 watts, has built-in Gigabit Ethernet and operates entirely autonomously in headless mode, running the Mac OS X 10.3 client (not the server edition). I've attached a La Cie 200GB FireWire drive to hold the iTunes music library.

I purchased the PowerBook/550 on eBay. It was advertised and sold with a broken screen. I removed the lid-screen assembly from the PowerBook, rendering it "headless" and helping to ensure that it would run cool.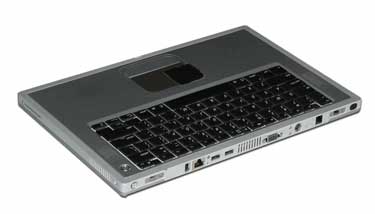 When I disassembled the lid/screen and disconnected its internal cables, I located the round, 1/8" magnet inside the lid that triggers the sleep switch beneath the PowerBook's trackpad.

To trick the PowerBook into correctly feeding a single monitor/VGA output to the Samsung LCD and ignore its now-removed screen, I taped the magnet onto the trackpad directly above the sleep switch so that the PowerBook would run in "closed lid" mode. To keep the PowerBook running, I use a freeware utility called SleepLess. SleepLess keeps the computer running in closed-lid mode even when it is not connected to a VGA output (normally, disconnecting the VGA cable while in closed-lid mode causes the PowerBook to sleep immediately).

I keep the iServe and its external hard drive in a closet to minimize drive and fan noise. At a great electronics store in Boulder, CO, I found a very substantial aluminum heat sink for $25 that measures about 2-1/2" tall and 8" x 10". This oversized heat sink moves heat from the entire bottom of the PowerBook and alleviates the need to provide more fans, allowing the PowerBook to run safely in a closet that has minimal air movement. The PowerBook rarely spins its internal fans up to the first notch (there are two fan speeds on a TiBook/550).

Monitor/TV
The Samsung 170MP LCD monitor/TV is both the monitor for the iServe and the main general-purpose TV/DVD/VCR display for the house. Its flexibility enabled me to build this whole integrated system without having multiple screens for using the computer and for watching TV/DVD/VCR.

DV Converter
The Formac Studio/TV records video and television to disk. This provides TiVo-like function and converts VHS into iMovies.

AV Switch
The two-part AV switch is just two standard five-position AV switches that have their primary single AV outputs wired together so that any one of five AV inputs can be manually connected to any one of five AV outputs. They were sold for switching between different console video game systems and cost about $30 each.

The AV switch box assembly allows me to connect the video and audio from, say, the TV to the stereo, or the VHS to the TV, or the server's audio output to the stereo. One of the inputs is an 1/8" audio plug that can be plugged into any random/extra audio source like an iPod, a friend's laptop, or tape player to feed through the system for recording or playing through the stereo.

Stereo/DVD
The stereo is an integrated stereo and DVD/CD player home theater system.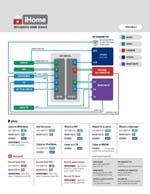 iHome Complete
I've built a complete map of all the interconnections for whole system, which I call "iHome." The C. Crane FM transmitter broadcasts music/radio streams from the iServe out to radios in the kitchen and the bathroom.

Download the diagram (1MB PDF).

Hope you enjoy this bit of AV geekin'.

To learn more about Jonathan's design and computer consulting services, check out his Web site.