Posted Thursday, July 22, 2004
Announcing "Secrets of the Photoshop Masters, Volume 2": An Hour of High-Octane Photoshop CS, Made on Macs

It's a big day here today. For one thing, this week's issue of Apple's eNews newsletter has some kind things to say about The Macintosh iLife '04. It's always an honor to be featured in this widely read email newsletter, and I'm grateful.

For another, a project that I've been working on for the past several weeks has finally shipped. It's an instructional DVD called "Secrets of the Photoshop Masters, Volume 2", and it's from Avondale Media, the DVD- and seminar-production company for which I'm editorial director.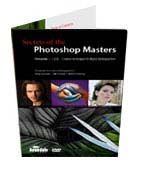 Our "Secrets of the Photoshop Masters" series of DVDs is different from other Photoshop training DVDs. They aren't one of those $150, 12-disc sets featuring one guy droning on and on about the marquee tool. Instead, our "Secrets" series is more like a portable Photoshop conference -- we bring award-winning photographers and artists into our studio and tell them to share their favorite techniques and tricks. The result is a tight, lively presentation that constantly makes you want to reach for the mouse and try things for yourself.

In Volume 2, we turned to three digital photography visionaries. Jeff Schewe is an advertising photographer in Chicago and the most brilliant digital imaging guru I know. It's frightening how much this man knows about Photoshop. Martin Evening is a spectacularly talented fashion photographer in London, and can also make Photoshop stand up on its hind legs and pose. Both Jeff and Martin are closely involved in the development and evolution of Photoshop.

And then there's Greg Gorman. Greg has been photographing entertainment industry stars for 35 years, having captured everyone from Alfred Hitchcock to Rachael Welch to Johnny Depp to Halle Barry. He's recently made the move to digital, and along the way, developed an amazing technique for turning color photos into black-and-white ones -- a technique that yields far more control over image tonality than a simple convert-to-grayscale operation.

That's the cast of "Secrets of the Photoshop Masters, Volume 2." Jeff Schewe demystifies the art and science of shooting in Raw format and working with Photoshop's Camera Raw module. Martin Evening shows how to create absolutely perfect image masks in a segment in which he superimposes a shot of a model against a New York street scene. And Greg Gorman philosophizes about his move to digital and then shows his black-and-white conversion technique.

It's an hour of absolutely inspiring Photoshop CS, and I couldn't be more proud of it. We've also included portfolios that let you see more work from these amazing artists, as well as detailed PDF articles about Camera Raw, image sharpening techniques, and more.

Enough of the hard sell. "Secrets of the Photoshop Masters, Volume 2" costs $49.95 and it'll change the way you use Photoshop CS.

And, of course, it was made on a Mac: we ran Photoshop CS on a dual-processor G5, we captured the video directly to hard drives using Final Cut Pro, we edited the video in Final Cut Pro, and we authored the DVD in DVD Studio Pro 3 -- while listening to iTunes, of course.

What a great computing platform.