Posted Friday, May 21, 2004
EZCube: A Portable Photo Studio

On Wednesday, I had the pleasure of being the final guest on TechTV's Call for Help program. After six years, Call for Help is leaving the airwaves, a victim of TechTV's recent purchase by cable titan Comcast. I had been a regular on the show, along with Toby Malina, with whom I wrote Sell it On eBay: TechTV's Guide to Successful Online Auctions. (Selling on eBay is how I satisfy my addiction to digital cameras.)

The final episode of Call for Help airs today at 6:00 pm Eastern time, and my segment deals with a subject that eBay and iLife users alike should be interested in: tips for better photography.

In my segment, I demonstrate one of the coolest photographic accessories I've encountered in my 30 years as an amateur photographer: the EZCube, a portable light tent that creates beautiful, diffused light -- perfect for photographing items for eBay and for just about anything else.

An EZCube is a wire-framed cube made of white translucent fabric. The cube arrives folded into a tiny zippered pouch. Remove the cube, and its wire frame snaps open. Place the cube under lights or just take it outside on a sunny day.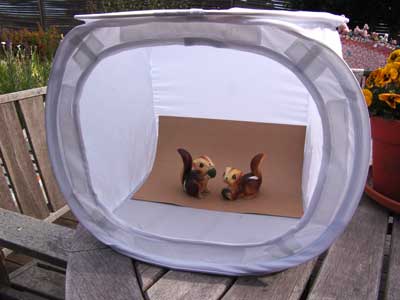 Next, place the item you want to photograph inside the cube. Just like that, it's bathed in soft, diffused light -- no ugly glare, no harsh reflections.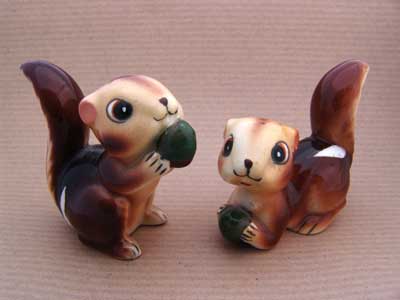 The EZCube includes a white "sweep" that lets you create a seamless background behind your object. I found that the bright white sweep often caused my camera to underexpose the subject itself; I often get better results with a sheet of colored paper.

If you're photographing a highly reflective item, such as a stainless steel teapot, you can attach a fabric "door" to the front of the EZCube. The door contains a small slit into which you poke your camera's lens. The result: your reflection doesn't appear in the final photo. (Sorry, reflectoporn fans.)

The EZCube is available in several sizes. The smallest size -- the one I demonstrate on today's show -- sells for $55 and measures about 12 inches square, and is ideal for photographing small items. A 20-inch EZCube costs $90, while a 30-inch model sells for $124. The company even makes a 55-inch beast that's big enough to hold a pet or a kid, though not for long-term storage.

If you get TechTV, check out the final episode of Call for Help today at 6:00 pm. While you're at it, check out Sell it On eBay, a book that shares the same beautiful, full-color, design as my iLife books.

And if you're into photography, check out the EZCube. There isn't an easier way to shed some beautiful light on your subjects.

(Thanks to Leo Laporte, Roger Chang, and the entire gang at TechTV for some very fun moments under the lights!)