Friday, May 20, 2005
Posted 7:35 AM

Friday Fun: Comic Life Goes Tiger, More About Podiobooks, New .Mac Templates for Widescreen Movies, and More

It's Friday! The rains have stopped, the sun is shining, and a weekend awaits. Here are a few things to explore over the next couple of days.

Comic Life adds Tiger Features
This site was one of the first to sing the praises of Plasq's Comic Life program. (Read my post.) The Plasqies are at it again: they've updated Comic Life to add some Tiger-specific features and more.

Comic Life 1.1 taps into Tiger's Core Image technology to enable you to add cool special effects to your images. Brilliantly, the effects are nondestructive: they don't affect your original images.

Comic Life 1.1 also lets you grab still images using an Apple iSight camera. Snap a shot with your iSight, then add a wacky effect to it. Fun!

More About Podiobooks
Yesterday, I posted about podiobooks: serialized books delivered as podcasts. A reader kindly wrote to let me know about a directory of podiobooks on the forums area of the iPodlounge site. Keep those ears busy!

.Mac Goes Wide
Do you create widescreen movies? Do you publish them via Apple's .Mac HomePage service? If you answered yes to both questions, you'll be glad to know that Apple has added some HomePage movie templates that fit the 16:9 aspect ratio of widescreen movies.

Whether a Web page is the best place to view a widescreen movie is a debate I shall bypass for now.

A New iTunes Page: Now Go Buy Something
I've been toying with the idea of tweaking this site's resource pages: the ones accessible through the buttons at the top of this page.

Fresh from the toy box: a new iTunes and iPod resource page. I've rearranged the page in a way that I hope makes it a better resource. I've also taken advantage of the delights of RSS syndication to add some frequently updated news headlines and software downloads.

And I've added more me-commerce: more opportunities for you to spend, spend, spend. So far, I've resisted the urge to muck up this site's pages with Google ads. Nor will I hold forth my hand and ask for PayPal donations. This site's business model, if you can call it that, is simple: if you like this site, please consider buying my book. And maybe something else while you're at it. Amazon throws a few pennies my way when you do, and that helps put the Milk Bones in Sophie's bowl.

I plan to extend this new design to the remaining resource pages on the site. Any comments or feedback? Shout it out.

See you next week!



Thursday, May 19, 2005
Posted 7:32 AM

When Audiobook Meets Podcast, it's the Podiobook

Not long after I posted yesterday's item about free audiobook sources, reader Ron Earl wrote to let me know of yet another source for free spoken-word content: Podiobooks.

What's a podiobook? I'll let the site's About page tell you: "podiobooks" is a term coined by Evo Terra of The Dragon Page and Slice of Scifi to describe serialized audio books which are made available in podcast format. Subscribers to the podcast feed for each book will receive a new chapter each and every week. Some listeners keep it on their computers, some transfer the book to CD, but most (hopefully) transfer the file on to their mp3 player so they can listen no matter where they are.

All the books you'll find on podiobooks.com are provided by the authors to you for free. Many authors do this to get exposure for their work, others do it in the hopes you'll buy their next work in development. Still others simply do it for the sheer joy of writing. And while it's not required, you have the option to donate money to the author of your choice.

Pretty slick. And what, you ask, is a podcast? That's covered in the book. Order from Amazon (still full price—when-oh-when will the discount be restored?) or from Barnes and Noble (30 percent off).



Wednesday, May 18, 2005
Posted 9:42 AM

Easy Listening: Sources for Free Audiobooks

It's a wet Wednesday. At this time of year, Northern California's rainy season is usually over. Here in Albion (population: 398), this is supposed to be the time of year when we're being buffeted by sustained northwest winds in the 20 to 30 miles-per-hour range as a massive high-pressure system called the Pacific High builds offshore.

The high will have to wait, because it looks like December outside my office. But that's okay. Our house has a well, and more rain now means less chance of rusty water coming out of the faucets in November, at the end of the dry season.

But enough meteorological minutiae. I come bearing a tip courtesy of reader Ron Earl. Ron writes to let me know about audiobooksforfree.com, a Web site that contains—well, the URL says it all, doesn't it?

Audiobooksforfree.com has a vast collection of books that you can download for free or purchase on a CD or DVD. Ron also points out that another source for free audiobook downloads is the vast Project Gutenberg site.

As Ron points out, free audiobooks are usually stored in MP3 format. You may want to use iTunes to convert them to AAC in order to add audio bookmarks with Doug Adams' Make Bookmarkable AppleScript. (This script is included on my book's DVD, as part of an exclusive collection that Doug generously compiled for me.) While I discourage converting one lossy audio format into another, the loss of audio quality is not that significant for spoken-word content.

Thanks for the tip, Ron!

Now listen to this: Want more details on audiobooks, MP3-to-AAC conversions, and adding audio bookmarks to files? You need the latest edition of the planet's top-selling iLife book: 354 gorgeous, full-color pages, and a two-hour, 43-minute instructional DVD. Buy from Amazon if you must, but the Big Jungle is still selling the book at the full retail price. For a 30 percent discount, buy from Barnes & Noble.



Tuesday, May 17, 2005
Posted 10:22 AM

Learn More About the B&W Capabilities of the New Epson Printers

Jeff Schewe of PhotoshopNews has posted a detailed look at the black and white capabilities of the new Epson R2400 inkjet printer, based on his experiences with pre-production models.

I want one. Oh, I want one.

Also well worth a listen: a 20-minute phone interview between Jeff and fellow photographer Greg Gorman. If you're serious about digital photography and print-making, you need to hear this.

Both Jeff Schewe and Greg Gorman are featured on our "Secrets of the Photoshop Masters Volume 2" instructional DVD, which also features UK-based fashion photographer Martin Evening. These guys are so brilliant in the ways of imaging that it's scary. (And by the way, we're still giving away this DVD for just the cost of shipping and handling. Get the details here.)

It takes a lot to impress guys like Jeff and Greg, and when they talk about the new Epson printers, it's clear—they're impressed.



Monday, May 16, 2005
Posted 11:53 AM

Not-So-Mass Storage: the PlusDeck Puts a Cassette Deck in Your Computer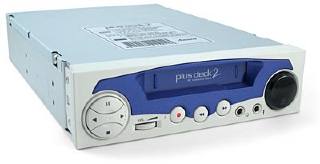 I so wish I could put one of these in my G5: the PlusDeck is an analog cassette deck that fits into a PC's drive bay. Its bundled recording software runs under Windows only, though if I interpret the company's poorly translated Web site correctly, it will work with a Mac—you just have to use your own recording software. (The company says it's working on Mac software, too. It doesn't say how you'd get one of these into a G5's cheese grater of a front panel.)

The PlusDeck looks like it'd be ideal for archiving old analog tapes. You can also record Internet audio to cassettes—handy for car listening. Here's a review.

Sure, you can connect a stereo cassette deck to your computer and do these same things. But this—this is much geekier, not to mention more convenient for people who need to do a lot of archiving.

Via the folks at Create Digital Music, who also want an 8-track tape bay.
Posted 8:28 AM
Better in Black with a Simple Hack: How to Get Gorgeous Black-and-White Prints from a Cheap Inkjet Printer

Maybe it's because I spent so much time in a darkroom during my youth, but I love the rich look of a black-and-white print. Unfortunately, most of today's photo inkjet printers do a crummy job of printing black and white, producing muddy prints with a slight color tint.

Costlier color printers, such as Epson's Stylus Pro series and the forthcoming Epson R2400 (I'm on a pre-order list for this baby!), address this by providing more than one black ink cartridge. In Epson's new UltraChrome K3 ink system, there are three—three!—separate black inks, called photo black, light black, and light-light black. (I love that last name. Apparently, Epson's marketing department rejected the name "kinda-sorta black" for that shade.)

But you don't have to spend $850US or more in order to print gorgeous black and white photos, not according to a reader who emailed me after reading my recent post about the new Epson machines.

Some intrepid users and ink companies have discovered that the under-$90US Epson Stylus C86 inkjet printer makes a stunning dedicated black-and-white printer. The key is to use a special set of inks made by MIS Associates. The steps for printing in black and white are certainly more complicated than just choosing the Print command, but they're a lot less complicated than mixing up a quart of Dektol and getting out your Polycontrast filters.

Steve, the reader who clued me in on this, also points to a forum discussion on the Digital Photography Review site. These special black ink formulations are available for several other inexpensive inkjets, including the aging Epson Stylus Photo 890, one of which I have.

Want More Info?
While surfing on the subject, I also came across this excellent backgrounder on digital black-and-white printing. Very cool stuff—I plan to investigate this more.

And finally, I wouldn't be doing my job if I didn't point out that my book has instructions on how to use iPhoto 5's Adjust panel to create better black-and-white images than the B&W button provides.

Have a monochrome Monday!