Friday, April 29, 2005
Posted 10:32 AM

Five Out of Five: MyMac.com Reviews MyBook

The good folks at MyMac.com have published a review of The Macintosh iLife '05. Reviewer David Weeks pens several blush-worthy phrases of praise:

The new edition...is even better than its predecessor, if that's possible. Jim Heid has been writing and teaching about the iLife applications for quite a while, and his expertise is visible on every page.

Each application gets plenty of coverage, but Heid balances space between the fundamentals and advanced (yet not-too-demanding) tips. I've been using the iLife applications (Garageband excepted) since they were first released, and I was very pleasantly surprised to find that there are more good tips and tricks still to learn.

He continues:

The production values are as good as ever; The Macintosh iLife '05 is big and pretty. The DVD will appeal to those who learn best by watching as opposed to reading. I watched the entire DVD, and was again impressed by the completely professional presentation and useful content.

Huge thanks to David Weeks and everyone at MyMac.com for the kind and very gratifying words.

Best Price Yet: Buy the Book for $20.95
Meanwhile, a reader kindly writes to let me know that Micro Center is selling The Macintosh iLife '05 for $20.95—40 percent off the $34.99 cover price.

So until Amazon gets its discounting act together once and for all, there's another great source. (You can also get a hefty discount from Barnes & Noble or Peachpit Press.)


Posted 8:02 AM

PhotoStamps Are Back, Heid's on the New .Mac, and QuickTime 7 for Panther

Friday's fun: Last September, I wrote about PhotoStamps, a trial project from Stamps.com that would enable you to put your own photos on honest-to-gosh US postage stamps.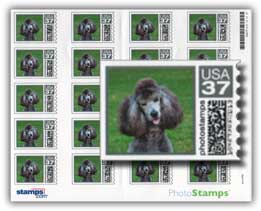 PhotoStamps were great fun. Alas, they were short lived, thanks in part to some jokesters who decided to order stamps of, shall we say, some controversial subjects.

There's good news: PhotoStamps are back. Pricing is the same as last year: one sheet of 20 stamps costs $16.99 (about twice the stamps' face value), and additional sheets cost less. Your photo must also be accepted by Stamps.com's content police, so keep it clean and keep it colorful—black and white photos are prohibited. (Read the terms and conditions.)

The New .Mac and Me
Apple has given its .Mac Internet service an overhaul, changing its design and adding several new features, including some new designs for the HomePage photo albums that you can create with iPhoto.




Among the other new features on .Mac are a series of "expert tips" and video tutorials from yours truly. Apple adapted ten tips from the iPhoto section of The Macintosh iLife '05 and is running them on a lovely page of their own. And in the .Mac Learning Center, there's a series of QuickTime movies in which I showcase some of iPhoto 5's new features.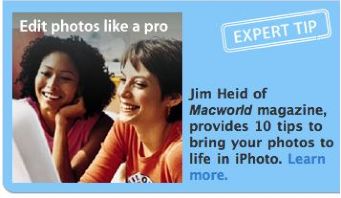 .Mac has always been a great complement to iLife, thanks to its HomePage Web albums, which make it easy to share photos and movies. The new .Mac also adds a much more functional home page that lets you easily access calendar, email, and address book information.

Not sure if .Mac is for you? Take a tour or sign up for a free 60-day trial. .Mac costs $99 per year, but you can order it through Amazon for $79.88.

QuickTime 7 for Your Older Cat
As every real Machead knows, Apple's Tiger operating system ships later today. But you don't have to wait for Tiger to get one of the enhancements that comes with it. Apple has made the new QuickTime 7 available now, and it works with Panther (specifically, with Mac OS X 10.3.9).

In QuickTime 7, the QuickTime Player is a much more sophisticated beast. I'll have more to say about it next week. In the meantime, have a fun weekend with Tiger.

Update: My pal and radio partner Bob Laughton reminds me to point out that if you currently have QuickTime Pro, you'll need to pony up another $29 for QuickTime 7 Pro—your existing license key won't work.



Thursday, April 28, 2005
Posted 8:43 AM

About the SuperDrive Firmware Update, Welcoming Audio Hijack 2.5, and My "User Group Report" Interview

Apple has released a SuperDrive firmware update that you might consider running if you have an eMac with USB 2.0 or a Power Mac G5 manufactured in 2004.

(Backgrounder for newbies: Firmware is another jargon term for the low-level software that many devices use. Your digital camera contains firmware, as does your iPod—and your SuperDrive. Rather than being permanently carved into silicon chips, firmware is stored in a way that enables it to be updated to add features or, more often, fix bugs.)

Apple's download page couldn't be more vague when it comes to describing what the update addresses: The SuperDrive Firmware Update delivers updated SuperDrive firmware to improve reliability when accessing DVD and CD media.

But as usual, the intrepid Mac community is on the case. According to reports on Apple's discussion boards and on the hardware heaven site XLR8YourMac.com, the firmware update is for only those SuperDrives manufactured by LG/Hitachi.

So does your drive need the update? One way to find out is to download the update and run it. If you don't have an affected drive, a message appears stating that your Mac doesn't need the update.

You can also determine the drive's manufacturer (and a lot more) by choosing About This Mac from the Apple menu, then clicking the More Info button to run the Apple System Profiler utility. When the utility starts, click the entry that reads ATA and check out the right-hand side of the System Profile window. Information about your drive appears there: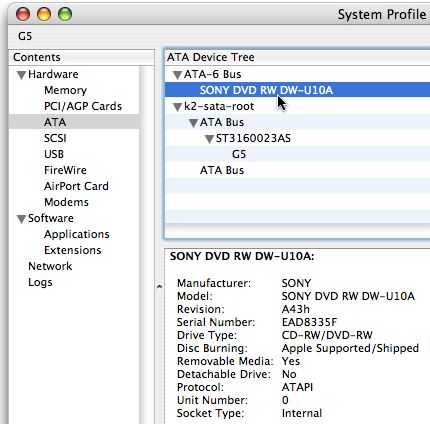 As the screen above shows, my Power Mac G5 has a Sony-built SuperDrive and didn't need the update. But if your System Profile reads HL-DT-ST DVD-RW GWA-4080B or HL-DT-ST DVD-RW GWA-4082B, your drive may benefit from the update.

Audio Hijack 2.5
Rogue Amoeba Software has shipped a hot-sounding update for its superb Audio Hijack Pro application, which lets you record streaming Internet audio and so much more. (I cover the topic at length in The Macintosh iLife '05.)

What's new? Here's a snippet from the press release: "Version 2.5 [provides] several major new features in addition to Tiger compatibility. Audio Hijack Pro's timers are now much smarter, alerting users to overlaps, as well as being exportable to iCal for calendar viewing. In addition, Audio Hijack Pro now offers a "Radio" input option with custom support for the Griffin RadioShark and D-Link DSB-R100 USB radios, as well as a new "System Audio" input to allow recording of all audio being played.

Additional feature improvements include full AppleScriptability, a new Disk Status window showing available disk space on all volumes, and the new Application Mixer plugin, great for creating Podcasts."

Listen to "My User Group Report" Interview
I recently had the chance to ramble about iLife, Macs, and my book in an interview with Chuck Joiner, editor in chief of the MUG Center and host of its always-interesting Internet radio show, The User Group Report.

You can listen to the show or download an MP3 archive for your iPod.



Wednesday, April 27, 2005
Posted 1:18 PM

GarageBand 2.0.1 Adds AppleScript Support and More

Earlier this week, Apple released a maintenance update to GarageBand. The update to version 2.0.1 is available through Mac OS X's Software Update system preference or from Apple's site.

The update's page lists an collection of bug fixes. But there's more that Apple hasn't reported on.

For starters, GarageBand 2.0.1 now provides numeric feedback when you adjust a track's volume or panning settings: a numeric value pops up next to the pan knob or volume slider as you drag. This makes it easier to copy one track's volume or pan setting to other tracks.

Tip: If you press the Shift key while dragging the pan knob, it moves in smaller increments.

For GarageBand geeks, what may be most interesting about GarageBand 2.0.1 is the addition of AppleScript support. This opens the doors to some interesting automation options, especially with Tiger and its automation technology right around the corner. (iMovie HD is now the only member of the iLife family that does not support AppleScript.)

I first learned of this from a thread on Apple's discussion boards. The discussion there isn't entirely positive—a GarageBand guru by the screen name of HangTime was having trouble with a script he had written. Still, the notion of being able to automate GarageBand is intriguing.

Still Stuck in the Jungle
So the Amazon fun continues. Yesterday I foolishly reported that the e-commerce giant had finally restored the 34 percent discount it was offering on The Macintosh iLife '05.

Within hours, I received many emails saying that it wasn't so. One reader even took the trouble to send a screen grab of what might just be the weirdest Amazon error message ever:





In case your eyesight is as bad as mine, that message reads Please note that the price of The Macintosh iLife '05 has increased from $23.09 to $34.99 since you placed it in your shopping cart.

If they tried that at my local grocery store, there'd be a riot.

So, dear readers, it boils down to this. I'm as tired of whining about Amazon's flakiness as you are reading about it. The folks at Peachpit Press are helping the Amazonians restore the discount, and I have no doubt that we will someday live in a world where you can buy the book/DVD from Amazon for $23.09.

Until that happens, you can order at a substantial discount from Barnes & Noble or Peachpit Press.

Today's Tunes
Busy day today—a couple of deadlines, then I head off to co-host another edition of Point & Click Radio with my friend Bob Laughton. Listen in tonight if you like.

In the meantime, don't let my schedule stop you from shopping for music. When you buy tunes through my site, I get a tiny commission. So do your part and help put a Milk Bone in Sophie's cookie jar.





Tuesday, April 26, 2005
Posted 8:47 AM

Another Smart Playlist Idea: Songs that Ask a Question

If the air smells a little sweeter today, if the sky looks a little bluer, if the grass looks a little greener, there's a reason: Amazon has gotten its act together.

Amazon is now showing my book and DVD as "shipping within 24 hours" and has it listed at the discounted price of $23.09 (34 percent off).

Finally.

I do have to laugh at one thing: Amazon frequently pairs up two books and offers them both at an even bigger discount. So which book are they pairing up with The Macintosh iLife '05? Why, The Macintosh iLife '04, of course—last year's edition. Hey, collect 'em all, I say!

Songs that Ask a Question
In yesterday's post, I shared one of the iTunes smart playlist ideas that appears in my book: creating a smart playlist containing the first track of each album in your library.

Here's another offbeat smart playlist idea from the book: create a smart playlist of all "songs that ask a question"—that is, songs whose names contain a question mark. Set up the Smart Playlist dialog box to read Song name contains ? (question mark), as shown here.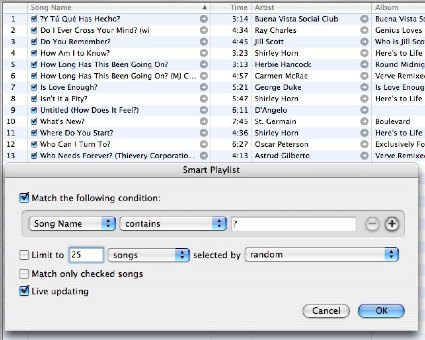 Add an additional criterion to home in on a specific genre if you like, but I like to keep it eclectic and see what iTunes comes up with. Is it practical? Certainly not, and I resent the implication. Is it fun? You bet. Just be ready with some answers.

iLife trivia tidbit: in iPhoto 5, a question mark in a smart album is a wildcard character. In iTunes, it isn't—fortunately. iLife's inconsistency makes this tip possible.

Today's Tunes: Gotan Project
I love music that transcends genres and styles, and Gotan Project's La Revancha Del Tango fits that description beautifully.

"Gotan" is "tango" spelled sideways, you might say, and this group mixes traditional Argentinean tango with modern chillout beats and programming. It's a sexy combination—check it out.



Monday, April 25, 2005
Posted 10:49 AM

First of All: Try this iTunes Smart Playlist, Plus Today's Tunes

Hey, Amazon is finally shipping my book! Many of you have written to say that you've received shipping notification, and I really appreciate it. Be sure to write and let me know what you think of the book once you've received it, and don't forget to watch the DVD.

Alas, Amazon still hasn't restored the nice 34 percent discount that it was originally offering. If you're after a deal, buy directly from Peachpit Press or from Barnes & Noble's site. (See last Friday's post for links.)

To celebrate the fact that Amazon has gotten its act partially together, here's a short excerpt from the smart playlists section of the book's iTunes chapter. I love the way smart playlists let you explore your music library in unique ways, and this excerpt describes a way you may not have thought of.

Want to explore your music library in a completely different way? Try making a smart playlist built around the Track Number field. For example, to create a smart playlist containing the first song in all of your albums, specify Track Number is 1. If one of your favorite artists always starts his or her albums with a particularly cool track, add the artist's name: Artist is George Duke and Track Number is 1.

Today's Tunes: Bebop to Start the Week
How do you jump-start a long week? If you're a jazz lover, try some up-tempo bebop. Today: a few of my favorite bebop horn players.

Say bebop in a word-association test, and most people will reply Charlie Parker. For all practical purposes, bebop saxophone began with "Bird," as he was called, and the iTunes Music Store has an excellent iTunes Essentials compilation
of Parker's artistry.

But don't stop with Bird. Another master of bebop sax was Gene Ammons.
While many bebop artists recorded with the big orchestras that helped give birth to bop, Ammons often recorded with smaller bands. One of my favorites is his Sock, which may be about the hottest two minutes and 49 seconds of 'bop ever recorded.

And if you're looking for the hottest two minutes and 51 seconds ever recorded, proceed directly to Red Prysock's Hand Clappin'. Most jazz lovers are familiar with vocal crooner Arthur Prysock, but aren't aware that he had a horn playing brother. He did, and Red was hot.

So many horn players; so little time. Don't forget about Sonny Stitt
, who often recorded with Ammons.

To survey the landscape of 'bop, check out the iTunes Essentials compilation Bebop and Beyond
. It, like all the iTunes Essentials compilations I've explored, does a great job of collecting the tunes that define a given category or artist.

See you tomorrow!