Tuesday, January 11, 2005
Posted 10:08 AM

Say Hello to iLife '05 -- And Get Your Preview Here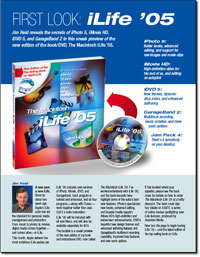 iLife is about to get better. At today's Macworld Expo in San Francisco, Steve Jobs unveiled iLife '05, a new version of Apple's personal digital media studio. Available on January 21 for $79 (and, as always, bundled with new Macs), iLife '05 includes new versions of iPhoto, iMovie, iDVD, and GarageBand. Each program is refined and enhanced, and all four programs -- along with iTunes -- work together better than ever.

I've been working with iLife '05 for some time now, and I'm already hard at work on the next edition of my book/DVD. To whet your appetite, I've written a 16-page "first look" containing excerpts from the next edition of my book.

The preview contains full details on iLife '05's greatest hits: iPhoto's spectacular new books, enhanced editing, and broader media support; iMovie HD's high-definition and widescreen enhancements; iDVD's beautiful new design themes and enhanced authoring features; and GarageBand's multitrack recording capability, improved loop features, and new sonic options.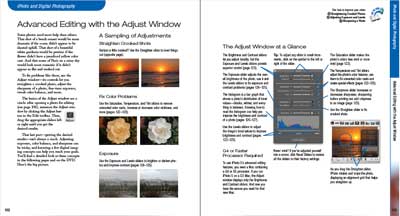 Like everything that comes from the collaboration between Avondale Media and Peachpit Press, the preview is in full color and is drop-dead gorgeous.

If you're attending the Macworld Expo, stop by the Peachpit Press booth and pick up a copy. If you aren't attending, we'll send you a PDF. Just enter a valid email address and ZIP code in the boxes below, and we'll email the PDF to you.


You'll also receive occasional Mac tips via email from us at Avondale Media. We promise not to flood your inbox with junk mail, and you can unsubscribe at any time (read our privacy policy). We hate spam, too!

Expo attendees: Remember, I'll be talking about iLife '05 at my Peachpit Press booth appearances: Tuesday from 3:30 to 4:00 pm, and Thursday from 2:30 to 3:00 pm.



Sunday, January 09, 2005
Posted 11:02 AM

Let's Get Together in San Francisco: My Macworld Expo Schedule

If it's January, it must be time for another Macworld Expo. Indeed it is, and I'll be there, talking about iLife, signing books, and gaping at whatever rabbits the magician in blue jeans and black turtleneck pulls out of his hat on Tuesday morning.

Here's my speaking schedule.

Tuesday, January 11, 3:30 to 4:00 pm. iLife presentation and book signing, Peachpit Press booth.

Thursday, January 13, 2:30 to 3:00 pm. iLife presentation and book signing, Peachpit Press booth.

Thursday, January 13, 3:30 to 4:45 pm. User Conference Session. "From Hollywood to MTV: Power Editing with iMovie." How to take full advantage of iMovie's editing features, with additional iLife insights sprinkled in along the way. Room 131.

I hope to see you there!