Thursday, April 24, 2003
Posted 8:17 AM

You've Got Questions. Radio Shack Has Turntables.

A reader writes:

"Loved the new book and the DVD! It has a plethora of information that
is a great help to me and is reasonably priced.

I need to ask you a question and I hope you can help! Where one can
purchase a phonograph turntable that has pre-amp built in? I would like
to transfer my vinyl record collection as you demonstrated on the DVD
to CD."

First of all, thanks for the kind words! Now to your question.The turntable that I use in the DVD is a $99 model made by RCA and sold by Radio Shack. It isn't the finest turntable in the world, but if you want to digitize old vinyl records that have already been through the mill, it's a good, inexpensive choice.

And yes, this turntable has a built-in preamplifier, which means you can connect it directly to your Mac's audio-input jack -- no need to go through a stereo system or external pre-amp first.

Have an iLife question? Write to me and I'll try to answer it here!



Wednesday, April 23, 2003
Posted 10:36 AM

A Good Time on Tonight's Edition of "Your Mac Life"

I always enjoy being a guest on the fun and informative Your Mac Life, an Internet radio program hosted by Shawn King and covering all things Mac.

Tonight, I returned to the hot seat -- well, via telephone, anyway -- and had a good time yakking about iLife with Shawn.

An archive of the show will be up soon on the Your Mac Life archives page. Thanks to Shawn and the YML crew!



Posted 9:42 AM

Now Playing On Your iPod: FM Radio

Will the cool toys never stop coming from Griffin Technology? I hope not.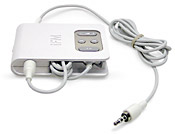 Today, the company announced its iFM add-on, an FM radio tuner that plugs into your iPod. The iPod's remote control handles tuning and other functions. (The 10GB and 20GB iPod models include a remote, and one is available for older, 5GB models.)

iFM joins Griffin's iTrip, an FM transmitter that lets you beam your iPod's audio signal to any FM radio -- for listening on your car stereo, for example.

iFM and iTrip have one more thing in common: neither are shipping yet. iTrip (the transmitter) is scheduled to be available before June 21, and iFM (the FM tuner) is slated to ship this summer.





Tuesday, April 22, 2003
Posted 8:40 AM

Reuters Reports on Apple's Forthcoming Music Service

According to a Reuters new story, Apple will indeed unveil a music service, one that will "feature songs from all five major record labels, link with iTunes, and allow for easy downloading to the iPod."

What's especially noteworthy is that the service will be initially available only for Macs, according to the report. If true, this is a smart move that will only further highlight the Mac's significant advantages over Windows as a digital media platform.

(Thanks to Chuck Wilcher for the heads up on this story!)



Monday, April 21, 2003
Posted 8:26 AM

Here Comes Apple's Music Service. Maybe.

MacCentral is reporting that Apple is planning a special event in San Francisco for April 28.

While Apple is being characteristically cagey about the subject of the event, MacCentral reports that the invitation -- one of which, ahem, your correspondent has yet to receive -- says there will be "announcements that will be music to your ears."

Sounds like we may see the long-rumored Apple music service. Which means we'll also probably see new iPods as well as iTunes 4.

One of the rumors swirling around Apple and downloadable music has been that the company is in negotiations to purchase Vivendi's Universal Music, a major record label. Apple has denied this, too.

That doesn't mean someone hasn't had fun with the rumor. A friend of mine recently discovered that the domain name "appleuniversal.com" has been reserved. A whois lookup indeed shows the registrant as being Apple Computer. But the registration entry also says:

Hahahah!!! Tricked You!!!
April Fools
Tricked You!, HA HA HA HAHAHA
US

And there you have it -- an April Fool's joke for the Internet Age.


Posted 8:08 AM

Pardon My Dust: Blogging in Progress

I'm finally taking the plunge and turning this site's home page into a Web log, or blog. This means much more frequent updates, at least in theory.

In the meantime, it may mean some broken links and rough edges as I finish the site and get Blogger set up correctly. Please bear with me, and welcome to the new and improved Mac iLife site!